Biocoop Bonheur
Shopping with a feeling of bliss
Stroll through the 450-square-metre organic foods store in the southwest French coastal town of Anglet, and you will sense its philosophy right away: being at one with nature. This is reflected both in the product range and in the design of the store itself. Raw and premium materials such as brick, bast, steel and wood as well as natural, muted colours dominate the interior. The studio responsible for the design is Felix et Associés, and they turned to the expertise of shopfitting specialist Wanzl in order to execute their concepts.
Each department is designed as its own small shopping world – reflecting the essence of the particular goods on offer. Fruit and vegetables are presented loose in original wooden crates on YourTable Fresh systems by Wanzl. Display boards illustrate the seasonal nature of the products while baskets with regional specialities complement the presentation of the goods. This gives customers a sense of the freshness of the food, as if they were buying directly from the farm. To emphasise the rustic and rural character, various green plants are attached to a metal framework overhead. Right next to the fruit and vegetable department, customers can fill their own containers with high-quality oils from metal drums. Fruit is kept on hand in ceramic barrels. This arrangement is particularly effective due to the customisability and flexibility of YourTable.
The wine section has a rustic feel. A solid wooden table serves as a presentation area with selected bottles presented in large ice tubs on the benches. Most of the wine selection is stored on three levels of the vino tech presentation system. At the top, the bottles are slightly inclined for optimum presentation of the respective bottle design. In the middle, fine wines are arranged stylistically, and at the bottom there is sufficient space for boxed wines. The rest of the store is also designed with great attention to detail. Legs of ham hang above the meat and sausage counter, and basket-woven lamp shades blend harmoniously with the wood trim on the counters, walls and shelves. The signage is all custom-made.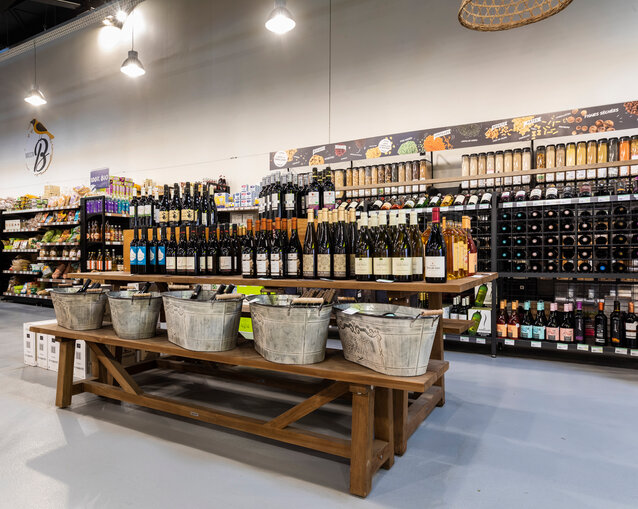 "Bonheur" – meaning delight or bliss – is emblazoned in bright yellow lettering above the refrigerated section of the store. That is exactly what customers feel when they enter this extraordinary shop. The beautifully natural design of the store expresses Biocoop's great appreciation for high-quality, organic goods and its customers' sustainable lifestyle. As a special highlight, guests can enjoy unique products in the shop's own Maison B restaurant, which only serves food that is available in the store.