BakeOff® 2.0/2.1
Keeps bread rolls fresh
High product density and maximised filling volume
Best ergonomics for customers and shop personnel
Modular system offering flexibility for presenting the goods
Wanzl has been working with the food industry for over 15 years, developing sales systems for the attractive presentation of freshly baked goods, from bread to pastries, in retail stores. To date, several thousand stores have opted for Wanzl BakeOff modules as a result of this successful collaboration. With the latest generation BakeOff 2.0 we are making the sale of bakery products even more successful.
Send request
Best ergonomics for customers and staff
Customers can pick up goods effortlessly and with just one hand. The baked goods are taken out with a bakery drawer and placed on the removal tray, then picked up using disposable gloves or bakery tongs.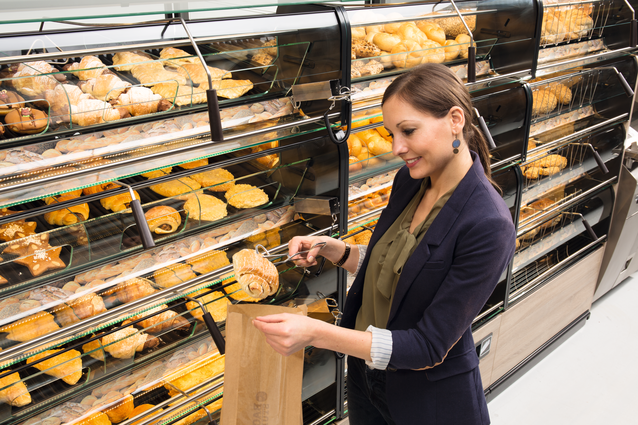 Modular and flexible
Wanzl BakeOff 2.0 is a modular-design sales system. Changes to product ranges can be carried out flexibly and with minimum effort. Each module has four identical levels for baked goods. Each level can be subdivided into up to three sections, offering enough space for wide ranges of baked goods.
Increased revenue and greater convenience
The modules "Baked goods tower with refrigeration" and "Baked goods tower for bread slicing machine"« ensure high sales through cross selling and customer satisfaction due to a high level of convenience.