Galaxy Gate 1.1
An elegant access gate with innovative technology
Front signalling ensures clear customer guidance
Integrated running light for easier orientation
High level of security thanks to integrated sensors
With its extra high safety glass swivel arms and various equipment options, the Galaxy Gate 1.1 ensures reliable access control
Send request
The Galaxy Gate 1.1 can always be adapted to individual requirements and, with its extensive and innovative equipment, consistently ensures smooth and reliable processes.
Authorisation-based opening
Different authorisations can be used so the swivel arms open either through 90° or, for example, only through 30° so that the gate can enable different passage widths, and thereby reduce the level of investment needed. The application of the gate is adapted to each individual customer. The reduced opening (30°) of a wide passage ensures a high passage rate and smooth separation of individuals.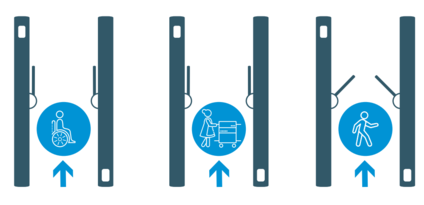 The Galaxy Gate can also be optionally equipped with a disinfectant dispenser and a thermal imaging camera with an info screen. This means the gate will only open following hand disinfection and a body temperature measurement. The thermal imaging camera reliably detects the use of mouth and nose coverings, or accordingly instructs users to wear one.
Thermal imaging camera, info screen
The built-in thermal imaging camera has been specially developed for measuring body temperature and reliably triggers alerts if values above the limit are detected. The info screen can also provide notification that the measurement has been performed.
Technical details:
160 × 120 pixel thermal detector
Point, line and zone for measuring temperature
Temperature measurement range: 30°C to 45°C; Measurement accuracy: ± 0.5°C
3D DNR, improvement of image details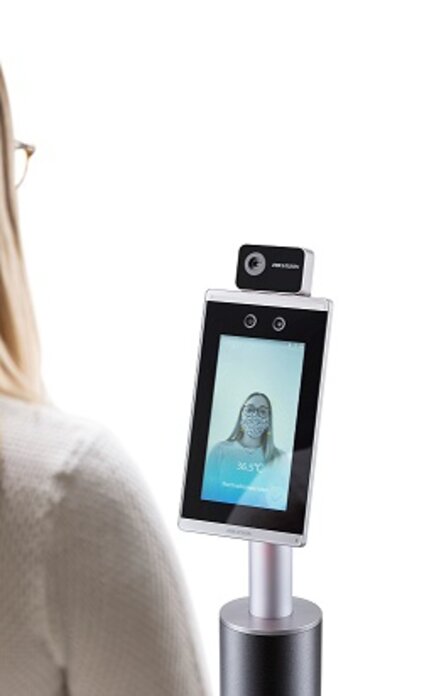 Person counting
Person counting counts all instances of entry and exit through the passage. The current count can be displayed on an external screen or directly on the gate's info screen. Differential counting (optional) ensures that the maximum number of people is not exceeded. The bag search function (optional) randomly blocks individuals from entering.