A new store is born – Würth and Wanzl present a new store design
Flagship store opened in Kamp-Lintfort
The customer experience is also increasingly a key success factor in the B2B segment. Today's customer requirements go far beyond traditional price/quality considerations – a fact which Adolf Würth GmbH is well aware of. For this reason, the company has worked together with shopfitting specialist Wanzl to develop a new store design. The focus is on emotionalising the shopping experience as well as optimising the product range and offering improved services. The result can now be seen in the recently opened flagship store in Kamp-Lintfort (North Rhine-Westphalia).
Showtime – Würth opens a flagship store
When the Würth store in Kamp-Lintfort opened at the start of October, there were no big speeches or ostentatious celebrations – and not just because of coronavirus. "We're very proud of our flagship branch. Its design and range concept speak for themselves," explains Matthias Glaser, Head of the Branches division of Adolf Würth GmbH. Bernhard Renzhofer, CSO at Wanzl, was also delighted: "After the fully successful launch and national rollout of the Würth24 branches since 2018, the development of the store design is the second great milestone in our collaboration with Würth. This confirms our aspiration to be considered an innovative and integrated solutions provider for retail."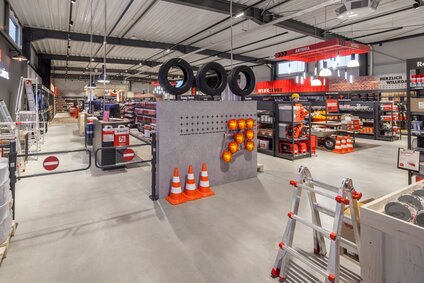 Creating shopping experiences
Anyone entering the store will experience the new "Würthsphere" feeling: more modern, more structured, and more emotional. It starts right at the entrance area, where no brash arrow indicates the direction, but instead an arrow made up of construction site warning lights mounted on a large, concrete-grey room divider, and the whole picture is impactfully accessorised with road traffic cones. Workmanship is the guiding theme in the shop, and the visual merchandising tells a unique story: Würth is much more than purely a provider of assembly and fixing materials; it is the ideal partner for all professional tradespeople! To communicate this, selected products have been specifically highlighted. This is vividly demonstrated by the ASSY® 4 premium screw, framed with concise information describing the advantages it offers. The same presentation design uses keywords to steer customers' attention to other product categories, such as connecting elements or chemical products. To even further highlight these new expert ranges from Würth, the store developers have now placed ranges that were once wall-mounted into gondola shelving.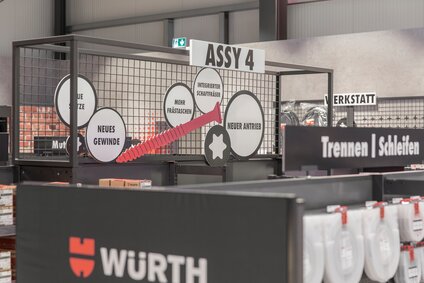 The core of the store is formed by the showroom area for work clothing and machinery product areas. Shirts, jackets and vests are arranged in a shop-in-shop concept, branded with the stylish Würth MODYF logo. Right next to this, customers will find gloves as well as work shoes from brands that are presented on the wall in a fantastic sneaker store format. The latest machines from Würth celebrate their presentation on the opposite wall. Highlight products are given their own platform on the sales floor, where customers can directly experience them both visually and to touch. In a similar style to the work shoes, more machines are also exhibited in large-format pictures on the wall.
Shopping made easy
The majority of the store – both the walls and the floor – is decorated in an understated, light concrete grey, making stylish accents such as the suggestion of a brick wall or wood elements on shelves and walls even more effective. Highlight and offer areas are also clearly highlighted with dark wood-effect flooring, against which the anthracite-coloured steel-effect goods presentation systems contrast nicely. Offers signage, ceiling frame elements to draw attention to new products and practical mini containers Press release from Wanzl GmbH & Co. KGaA A new store is born – Würth and Wanzl present a new store design | Page 3 containers used as range markers above individual wall racks, shine in traditional Würth red. The use of colour makes navigation significantly easier for customers, who will also enjoy the wide and tidy aisles. To achieve this, many end display units are consciously only used to present larger individual products, or are not filled with any goods at all. In addition, previously palleted are now on shelving. Thanks to two versatile service desks, check-out is now easier too, whether performed by customers themselves or store staff. Anyone with time to spare can enjoy coffee and tea specialities at the drinks bar before checkout, or take a refreshing first-quencher from the fridge, enjoying a chat with colleagues and store staff at the same time. Showing appreciation through emotions, convenience and service – a unique positive customer experience makes the store in Kamp-Lintfort a flagship for all Würth branches.