Top marks for trainees at Wanzl
Apprentices' brilliant achievements in their final exams confirm Wanzl's excellent training
Wanzl has always trained its own specialists and the result speaks for itself: trainees regularly achieve outstanding performance in the final exams of their respective training courses. In the current year of training, four apprentices achieved particularly remarkable grades: Daniel Lippert achieved the highest grade for the skilled occupation of precision machinist, closely followed by Simon Pickl. Then Nico Wiedemann achieved the status of best graduate in the skilled occupation of electrician for industrial engineering and Lorenz Siegel in the skilled occupation of industrial mechanic specialising in precision instruments manufacturing, both in the West Swabia examination area. At the end of last year, Samuel Morhard achieved 3rd place nationally in the skilled occupation category of precision machinist – a special honour, also for Wanzl! Frank Oppenländer, Group Senior Vice President Human Resources at Wanzl, is delighted with the graduates' successes: "We warmly congratulate all our trainees. Especially in the current times these excellent exam results deserve special recognition."
Perseverance leads to success
"I am pleased to have completed my training with such a good result. The effort has paid off," says Lorenz Siegel happily. All trainees said that their top performance required hard work: "My advice to future apprentices: always stay on the ball, first learn the basics and then deepen your knowledge of all topics, immediately ask for help when you encounter problems and help each other," says Nico Wiedemann. Daniel Lippert adds: "My trainers taught me to work carefully and thoughtfully. This helped me a lot during the exam. I'm sure I'll continue working in this way in the future". The next goal for the trainees is further training: "In the future, I would like to complete my further training as master craftsman or technician," says Simon Pickl. The responsible trainers, Rudolf Pelikan, Benjamin Schwegler and Stefan Wegscheider, are enthusiastic about their protégés: "We are very proud that our trainees have achieved such an excellent result. They have demonstrated ambition, perseverance and skill. We are sure that they will achieve a great deal in their professional careers."
Samuel Morhard's outstanding performance may have been a while back but it deserves a special mention. After all, in the competition at national level in October 2020, he achieved 3rd place nationally in the skilled occupation of precision machinist – a first for Wanzl! "I was overjoyed back then, when after three and a half years of training, I received the long-awaited certificate of apprenticeship. It was also a great feeling when the president of the German chamber of crafts in Swabia, Hans-Peter Rauch, took extra time to congratulate me personally at the beginning of the year," says Morhard proudly. He advises all future trainees to also show an interest in technology in their private lives and to remain calm in stressful situations. He also wants to continue learning. "My next goal is to continue my training as a state-certified mechanical engineer," says Morhard.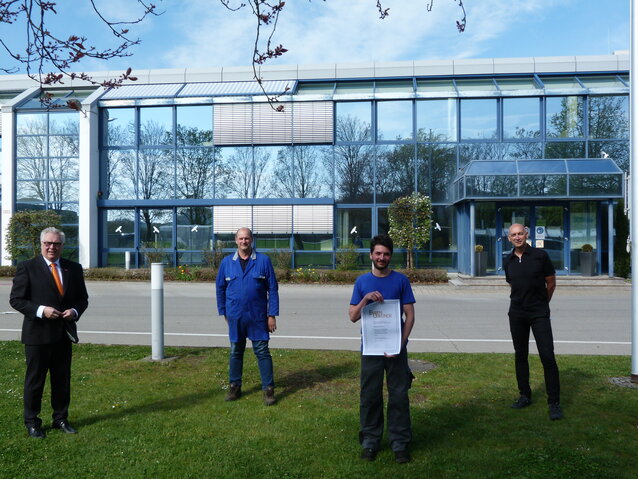 Training at Wanzl
Training at Wanzl is very much based on practical work and always focuses on both encouraging and challenging the apprentices. "Thorough training is the best foundation for later success in professional life. Qualified trainers accompany our apprentices throughout their apprenticeships and are available both as contact persons and advisers," explains Frank Oppenländer. From precision machinist to office clerk – at Wanzl you have the choice. Commercial apprentices work in 15 different corporate departments during their apprenticeships and get to know the company inside out. Industrial apprentices are trained at our company's internal training centre with an affiliated training workshop. At the Leipheim training centre and in the company's specialist departments, Wanzl offers training in the commercial and industrial sectors. Once training is complete, interesting opportunities in a globally successful company await. Experienced master craftsmen in the industrial and technical sector train apprentices at the Kirchheim training centre. Apprentices perform precision work in state-of-the-art production and quality processes, from drilling and milling to assembly of machine components. "We are always on the lookout for qualified specialists, who we then of course want to keep with us in the company," says Frank Oppenländer.

You can find more information about training at Wanzl at www.wanzl.com/Ausbildung .