Mobile workstation
Ideal for inventory, incoming goods tasks, shipping or at assembly areas
Reduces unnecessary trips around the store
Height-adjustable tabletop
With optional mobile power supply
Send request
Always on site with the office
With the mobile workstation from Wanzl your equipment and documents are always with you right where you need them, saving unnecessary trips back to the office or the use of paper lists. A recess on the front of the base plate provides more legroom when pushing. The table trolley is also easy to manoeuvre thanks to the four swivel castors. Two brakes ensure a secure position.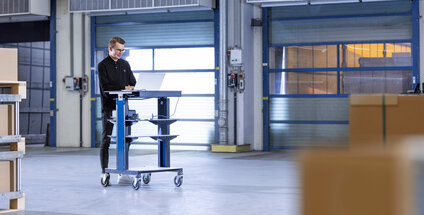 Height-adjustable tabletop
Better ergonomics at the workplace even if there are multiple users The mobile workstation with height-adjustable tabletop can be flexibly adapted to different user heights. The tabletop with an area of 65 cm x 62.5 cm can be adjusted in height in 25 mm increments using a metal bracket.
Mobile electricity supply
Expand the range of applications of your mobile workstation and fit your table trolley with a lithium-ion battery. This provides a mobile power supply for peripheral devices such as printers, laptops, scanners and monitors. It is connected via an inverter with integrated socket. To operate several devices, a power strip can be connected to the inverter. Wanzl offers the mobile power supply as an accessory, fully assembled on a central shelf, that only needs to be screwed in. This shelf includes a slide-in holder for the battery, the inverter and a power strip.