Edeka Tamme (Germany)
Hamburg's new shopping paradise – EDEKA Tamme welcomes shoppers in the Semperhaus
Wanzl and EDEKA Nord designed the store in Hamburg's popular shopping mile
Inviting, modern and Hanseatic. This is what Lars Tamme wanted for his new EDEKA store in the tradition-steeped Semperhaus in Hamburg's Spitalerstrasse. In close collaboration with EDEKA Nord, shopfitting expert Wanzl made these ideas and visions a reality. Since the beginning of November, customers have been experiencing that which makes Hamburg unique for many locals and guests on approximately 1,250 square metres: mercantile tradition with high standards, an elegant but discreet look and a dash of dry humour.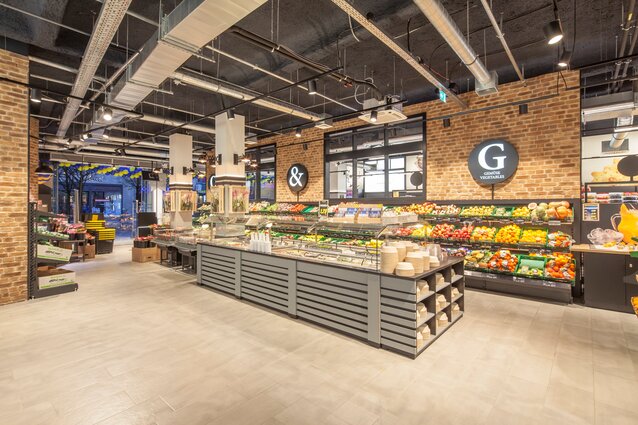 Spitalerstrasse in Hamburg, directly opposite the main train station, is a magnet for people out for a stroll, tourists and shoppers. Numerous department stores and shops of famous brands have found their home here behind the building façades of modern and classic architecture dating back to the Gründerzeit. An ideal environment for Lars Tamme: "My family and I focus on local shops accessible by foot at Hamburg's public transport hubs. We want to meet the individual requirements of Hamburg's diverse customer base. For this reason, we offer a full range of products that allows for both large and spontaneous purchases". But the shopping experience must remain a priority. "Our customers should feel comfortable and welcome. It is meant to be a friendly store, with modern touches and an ambience in which everyone can immediately see that they are in Hamburg", explains Lars Tamme. This is why the designers at Wanzl made use of a variety of stylistic elements typical of Hamburg: brick reminiscent of the historical Speicherstadt, black and white posters of old and new Hamburg landmarks in the checkout area and short sayings showcasing the Hanseatic wit: "This summer at the seaside, don't forget: apply sunscreen liberally – it makes it easier for the rain to run off".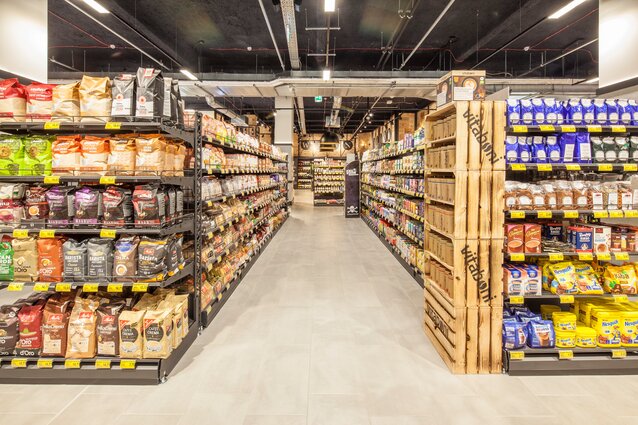 In the planning phase, the experts faced their first challenge with the very tightly arranged columns of the Semperhaus. They then had the brilliant idea of incorporating the columns into the store design concept as shelves at various points in the store. Wanzl developed the perfectly fitting shelving systems which showcase selected and new products in a unique light. A second important planning issue was the inner city location on one of the most highly-frequented thoroughfares of Hamburg. Simple, clear yet stylish orientation guides were needed for a comfortable, quick shopping experience. The designers created an industrial window with an incorporated graphic as a recurring basic element. The frame and struts in black metal give the brightly lit glass structure on which each store section is announced in black lettering. In addition, large, oval signs in the fruit and vegetable section, the sushi counter and the wine department designate the respective section. On an anthracite background, the light-coloured or punched out letters and symbols catch the eye immediately. Unobtrusive, yet highly visible thanks to their unusual design, light grey pennants made of coarsely woven fabric accentuate special shelves, provide basic information on the merchandise and announce the selected items in Tamme's store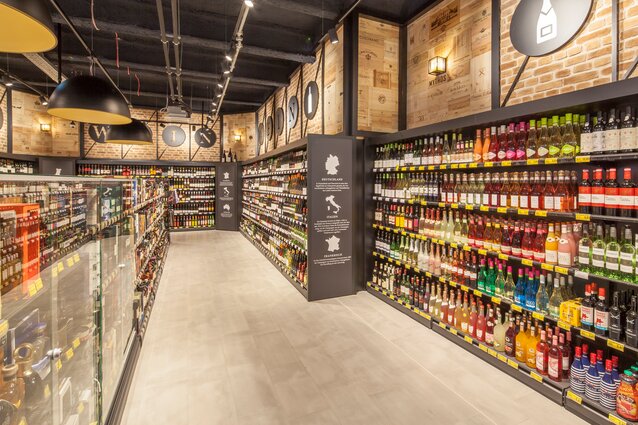 In general, the store concept is characterised by successfully executed light and dark contrasts. Ceiling and product presentation systems such as vitable and wire tech in dark colours combined with light-coloured flooring and walls create an overall sophisticated impression. Selected earth tones, warm wood elements and rustic brickwork provide punctuated highlights. This creates a harmonious combination of simple materials, natural colours and industrial accents. The decorative pendant and wall lights in a modern industrial style that emphasise the high-quality, modern and friendly interior also add to the look, creating an ambience in which the diverse customer base enjoys to stay awhile. The large number of tourists and business travellers as well as the multicultural character of Hamburg were also taken into account. All the texts and product range signage is available in German as well as in English. In addition, large product images on a light background ensure clear communication. The freshness of the merchandise is thus clearly staged and communicated to every shopper.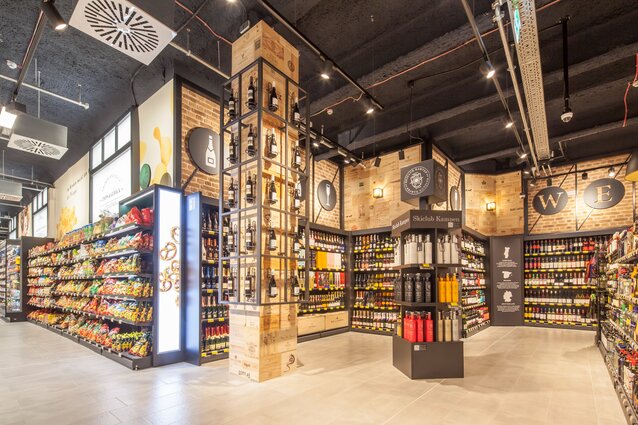 Resident or tourist, weekend or lunchtime shopper – at EDEKA Tamme in the Semperhaus, shopping is just as the customer wants and expects it to be. And that, in an atmosphere that best reflects the spirit of the times and the charm of an international cosmopolitan city with tradition.