E. Leclerc Avermes Moulins (F)
EuroShelf creates freedom in design
Retail, where are we heading? The new 7,500m² E. Leclerc hypermarket answers this question from its location in the north of Moulins, a commune in central France with a population of around 20,000. The future is uptrade.
The planning stages for the shopping centre lasted 10 years and it now covers a total of 20,000m², with E. Leclerc as the flagship store. Jean-Paul Oger, manager of E. Leclerc in Moulins, was the driving force and key decision-maker behind the vast project with capital expenditure of 50 million euros. The retail genius is a man of energy and enthusiasm, for architecture and new ideas above all else. He set out to create a high-class retail complex with clear lines and structured surfaces. Together with his team, Jean-Paul Oger travelled around the globe to seek and find new retail inspiration: They stopped off at Loblaws in Toronto, at Whole Foods Market in London and at Eataly in New York and Milan.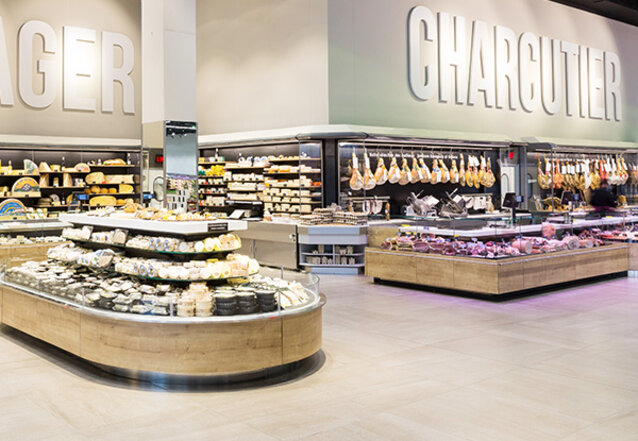 Back in Moulins, a marketplace of ideas for food and non-foods was born, paused briefly for breath and then immersed itself in the future of retail.
The architecture with ceilings of up to nine metres, together with 1,400 LED spotlights and spacious aisles is breathtaking. The interior in subtle shades with a huge amount of wood and glass creates a feel-good atmosphere. The retail space is minimalist. Ceiling banners, aggressive price deals, gaudy posters, goods on pallets? Definitely not in Moulins. This E. Leclerc is a prototype for contemporary shopping in a stylish atmosphere at attractive prices. Quite clearly, stinginess alone is no longer cool in Europe.