Saudi Railway Company (SAU)
New railway and 1,035 luggage transport trolleys
Saudi Arabia is usually associated with crude oil, and this monarchy on the Gulf is the most important exporter of this substance worldwide. Now, the country is preparing itself for the time after oil with a sovereign wealth fund of 1,600 billion euros to take them to 2030. This desert state is also rethinking its infrastructure, and investing heavily in its rail network from North to South, and in the West of the country between Mecca and Medina.
The Saudi Railway Company (SAR) is driving forward the expansion of a North-South line totalling 2,750 km with several branch lines. In future, six convenient and fast public transport trains will speed along the main route through Saudi Arabia day and night at up to 200 km/h, connecting key transport stations. The test phase has already begun and the South route from Riyadh to Al-Qassim is scheduled to start operating by the end of the year. Daily connections are planned for this line in the future, with an interim stop in Al Majma'ah and a travel time of two hours. If everything goes as planned, the trains will roll on into the North to Ha'il. In addition, an overnight service is planned that will connect Riyadh with Al-Qassim, Ha'il, Al Jawf and Qurayyat, on a 1,250-km route.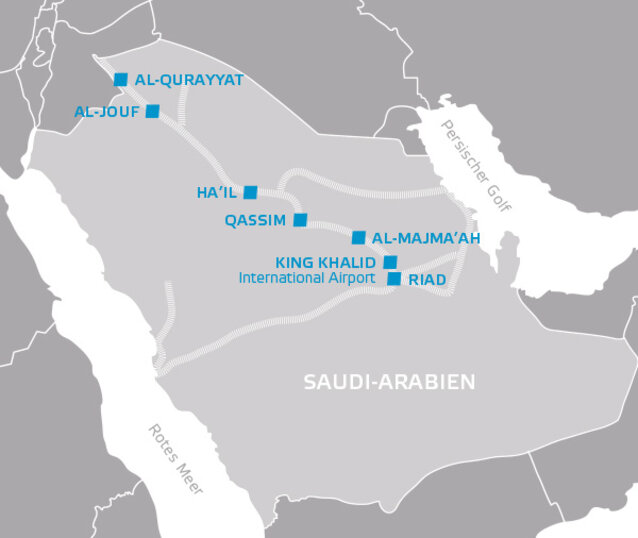 The high-speed trains – of course also including air conditioning in the cabins – are designed for comfortable travel through desert areas at exterior temperatures of 55°C. One of the coach classes is to be reserved for women. In order to make travel a relaxed and enjoyable experience before even embarking the train, SAR has ordered Travel 300 luggage transport trolleys for the train stations. The model is a sturdy all-rounder made of stainless steel in an exclusive high-end design with plenty of space for luggage. These elegant trolleys perfectly complement the beautifully styled terminals, where even the waste bins are made of stainless steel – and are of course also made in Germany.