Me and all hotel Düsseldorf (D)
A living room in Düsseldorf for hotel guests and locals alike
The very first me and all hotel opened in Düsseldorf in autumn 2016. It is located in the heart of the city, directly in the Japanese district also known as "Little Tokyo" on account of its top-class Asian restaurants, Japanese tea bars and shops. The Japanese flair can also be felt inside the me and all hotel, which has been fitted out as a boutique hotel with exquisite materials: delicate bamboo wood as panelling, dark cubes of solid wood that serve as comfortable armchairs, cushions with sophisticated patterns and light-as-air paper lanterns. Asian accessories such as the famous waving cat – a big hit with guests – add the perfect finishing touch.
At the me and all hotel, guests immerse themselves in the charming, cosy atmosphere, where they can attend to business in the co-working zones, chat in the lounge-style ambience, and relax after work. Urban comfort meets exciting design.

One special aspect: local residents are actively invited to join in with activities at the hotel, thanks to the event concept of "Local Heroes". For instance, the weekly "feierabend" (after work) event at the me and all hotel Düsseldorf presents DJs from throughout the region playing a variety of musical genres, inviting guests to relax and ring out the day while soaking up views of Düsseldorf. Local singers and songwriters regularly hold living room gigs in the unique atmosphere of the lounge, and monthly readings provide guests with tips on unusual books that have recently been published.
Additional me and all hotels are set to open in the cities of Mainz, Kiel and Hanover in the near future. Another hotel is scheduled to open in Düsseldorf by 2021, along with one at Stuttgart's historic main train station. Their interior designs will also be inspired by the city where they are located and regional artists and suppliers will be brought in as part of the "Local Heroes" concept.
Mundus for customised housekeeping
Mundus is the newest addition to the well-stocked range of Wanzl chambermaid trolleys. This trolley is modern in design, highly customisable and can be given a surprisingly different new look each time because each Mundus is a unique, personalised item designed to meet the requirements and corporate identity of any company. Fifteen of these lightweight yet sturdy trolleys, made of a steel and aluminium hybrid, roll through the me and all hotel düsseldorf. The fifth castor enables the trolley to stay agile yet always on track and allows it to spin on its axle within a very small radius.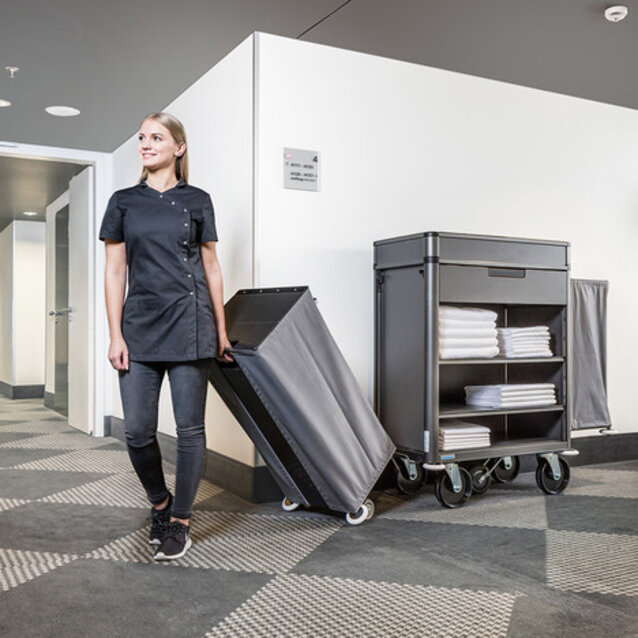 The trolleys are attractive and practical. The grey metallic design blends well with the hotel's design. The trolleys are also extra light, making them very easy to push through the corridors. That's great for our cleaning staff. The spacious storage capacity supports efficient work on the various floors. The trolley's selection of compartments provides plenty of space for products such as milk, sugar, notepads, pencils, and flyers. The larger compartments mean there is also enough space for clean linen and towels.

DUNJA JELENIC, Housekeeping Supervisor me and all hotel düsseldorf