Bretterbude (D)
Classic wood, budget style! The Bretterbude apartments
Break the rules! In the Bretterbude hotel, guests can skate on an indoor mini-ramp in the lobby, which was put there for that very purpose, and those who have left their skateboards at home can just hire one from reception. Here you stay in apartments rather than rooms, and each is decked out in top-quality wood in a creative design. The apartments are for sleeping, storing your stuff and quick breaks.
Located right on the Heiligenhafen beach promenade, Bretterbude has been open since the 2016 summer season and is one of the new hotel projects where you can enjoy the fresh air of the Baltic sea coast. Accommodation that is both economical and casual, its main target groups include windsurfers and kite surfers, who will discover various areas of interest in Heiligenhafen and can choose from 81 apartments of different sizes. There are small apartments of around 13 square metres, large apartments of about 25 square metres, whole-floor apartments and seven special apartments, each with a completely different theme, extras and special details. Those who have been doing sport or spent a long day relaxing at the beach can book a massage in the "kneading room" or come to the spa area to enjoy some calm in the sauna and steam bath. After that, guests can go to the self-service restaurant 'Strandschuppen or Spelunke, a real harbour pub with a wide variety of beers. And for a more urban scene, simply head to Garage, a chill area in the basement, where the beats are cranked up to full, inside the painted concrete walls.
Mundus does the housekeeping
At Bretterbude, daily apartment cleaning is not included in the price, but can be booked. Of course, every apartment is clean on arrival, and the final cleaning is free of charge. This arrangement benefits the environment, and allows guests to choose how they like it best. When cleaning time comes, the Mundus chambermaid trolley, brand new from Wanzl, is rolled into the apartments. The trolley is just as alternative as Bretterbude: its hybrid construction of steel and aluminium means Mundus is both light and has a high load capacity. The look and equipment can be tailored to your needs. Choose from three frame colours and five finishes. Four shelves that provide plenty of space for hotel linen, washing and waste bags are included as standard. Practical waste separating boxes, which were also selected by the Bretterbude, are available as accessories.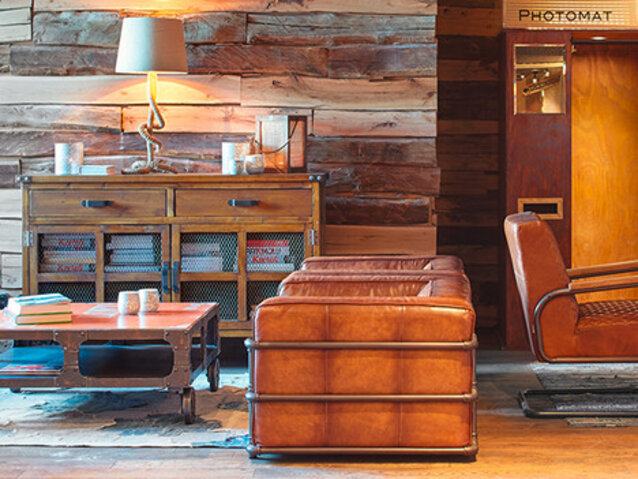 "We made a conscious choice to go for the description of budget class. We don't do pretentious – we focus on the essentials."
JENS U. SROKA, Managing Director of Bretterbude