vino tech
Every bottle perfectly placed
Exclusive multi-level wine presentation
Highly flexible and economical
Wine is a small but special everyday luxury. If you are a wine connoisseur who makes careful selections and wants as much information as possible to choose the right bottle - vino tech is your ideal solution. It is extremely versatile. vino tech influences with its clean construction and well-thought-out design. Wine is presented on three display levels, saving a huge amount of space: On the top level, wine bottles are presented at an angle for optimum readability. The central level consists of horizontal storage. On the bottom level, there is space for boxes for large-volume sales.
Send request
Individually combinable
vino tech offers exclusive presentation for quality wines. The bottles may be placed at an angle for optimum label readability, laid flat or stored in boxes for large-volume sales. vino tech is available as a wall display or gondola solution. It can be combined with unlimited extension units to create your own customised wine space. Placing vino tech as an end cap encourages more impulse buying. A range of finishes and textures perfectly complement your products and your sales area.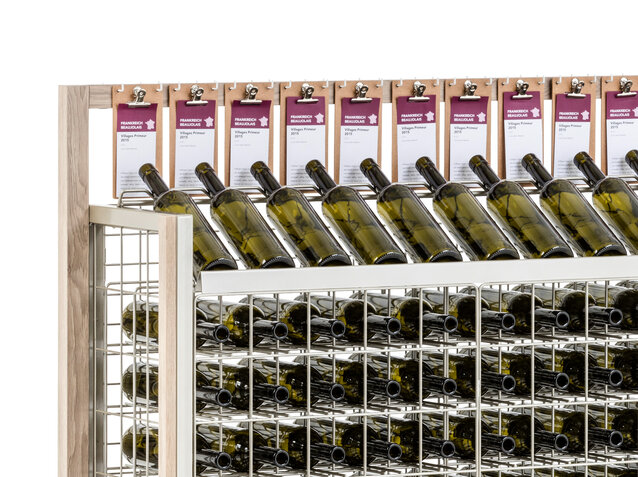 vino tech encourages impulse buying
vino tech sets an attractive scene for your wine range. The vino tech basic unit, conveniently positioned as an end cap, will give a fantastic push to impulse buys from your wine range. The wine display attracts customers with its three different presentation formats in one: on the top level, wine bottles are stored at an angle, and are laid down flat on the centre level. Down below, there is space for boxes of wine and for glasses. The ideal space even for larger wine gifts.
Make your store stand out from the rest
Wanzl Shop Solutions can create a successful store concept for you. Carefully arranged wall and gondola elements give your sales area a unique atmosphere. By pairing your select wines with vino tech, you can create the perfect display area and raise your profile. Showing off your selection of wines with outstanding presentation will showcase your entire store at its best. With its clear design, perfect functionality and careful choice of materials, vino tech showcases your wine expertise perfectly.