Project management is flying high – with Wanzl's Voyager Evolution 3000
This innovative luggage trolley is part of a comprehensive product and service portfolio
Bon voyage – to ensure that suitcases, bags and large bulky items can be transported safely and quickly through their spacious facilities, airports provide handy luggage trolleys. Operating around the clock with heavy loads, they must meet the high demands of passengers and airport operators alike – this calls for customised solutions! As a system provider for Airport and Access Solutions, Wanzl supplies its new Voyager Evolution 3000 luggage trolleys with comprehensive service solutions as part of a complete package.
While travellers benefit from the innovative design of the Voyager Evolution 3000, operators appreciate the trolley's elegant and dynamic look, which contributes to the modern, attractive image of the airport. When in use, the new Voyager Evolution 3000 impresses with its low weight, ergonomic handle with anti-bacterial powder coating, the world's most reliable castors and Wanzl's maintenance-free brake system, which has been tried and tested over many years. Even when heavily loaded, it is exceptionally manoeuvrable and easy to steer. Its extended platform allows room for large pieces of luggage, while an extended bumper protection safeguards users and airport fixtures from damage. A hybrid basket with the largest possible advertising space also allows the integration of RFID tracking solutions for optimal fleet management. Two different versions, each with a push or pull function, ensure excellent manoeuvrability when pushing and pulling entire rows of luggage trolleys – even in the tightest of spaces and suitable for any infrastructure. With the new Voyager Evolution 3000, Wanzl proves its expertise as a solution provider. This luggage trolley is part of a comprehensive product and service portfolio that is holistic and at the same time specially designed to meet the needs of airport operators.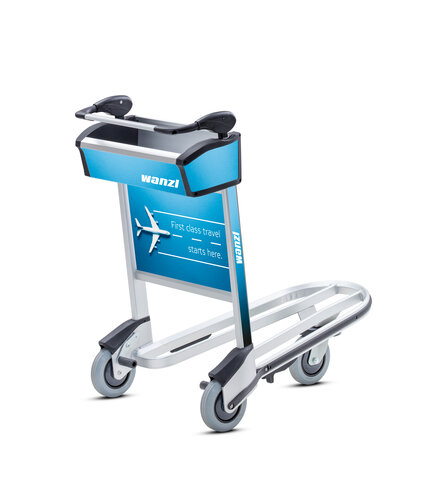 Wanzl stands for all-round peace of mind. In addition to the extensive product range comprising luggage trolleys, ticket machines and access systems, airport operators benefit from service, advice and support from a single source. From planning and implementation through to after-sales, be it hardware or software, Wanzl is always available as a competent partner throughout the entire project. Experts provide consulting services as early as the selection of the appropriate luggage trolley or airport gates. Trolley tracking, monitoring, passenger guidance systems and security gates at critical points are essential for airports. Here too, Wanzl is at the ready with its own software and can handle the entire project management – for a tailor-made, integrated solution. To ensure the functionality of the products during operation and to ensure a long service life with regular maintenance, Wanzl has a global service team on stand-by. No matter where the airport is located, Wanzl has the capacity to be on-site quickly. Wanzl's holistic complete solution with customised design, top product know-how, rapid availability and personal support saves customers time, money and effort.