Wanzl and ASTRUM IT
Secure and efficient digital visitor management
The collaboration between Wanzl and ASTRUM IT combines fully automated access systems with successful software for visitors, contractors and suppliers. Secure and efficient visitor management impresses with fast, digital registration, evaluation of visitor numbers, automatic access control of the building as well as recording of visit-related compliant with data protection regulations. Wanzl Access Solutions, a specialist in fully automated access systems, is cooperating with the software specialist for security solutions ASTRUM IT GmbH to develop a holistic solution for the management of external parties – visitors, contractors and suppliers. Together, these two experts offer the ideal product combination with the V21 terminal and Galaxy Gate 1.1 access gate from Wanzl and the VISIT visitor management software from ASTRUM IT. VISIT manages more than 4 million visit processes worldwide every year, both in international corporations and medium-sized companies.
"We see the collaboration with ASTRUM IT as an ideal addition to the Wanzl Access Solutions product portfolio. Visitors can register digitally and are automatically recorded in the system when they pass through our access gates, which results in more efficient staff deployment and increases building security at the same time," explains Ralf Aubele, Vice President Access Solutions at Wanzl. "For our customers, the partnership with Wanzl offers an ideal complete solution for the management of external parties – visitors, contractors and suppliers. Together, we ensure increased security, automation, faster processes and digitalisation with a focus on the future," adds Ingo Kauffmann, Director Security Technologies at ASTRUM IT.
Simplification through automation
Office complexes, hospitals, factories, banks and insurance companies – all log a significant number of visitors every day. To ensure smooth processes, access to these facilities must be uncomplicated, fast and secure. Visitors, contractors and suppliers should not feel controlled, but always welcome. To ensure this is the case, Wanzl developed the comprehensive Galaxy Gates 1.1 concept: The access gates are easy to operate, absolutely reliable and can be stylishly adapted to the respective CI. Combined with the interactive V21 terminal from Wanzl and the VISIT software from ASTRUM IT, visitor management can be controlled easily and autonomously.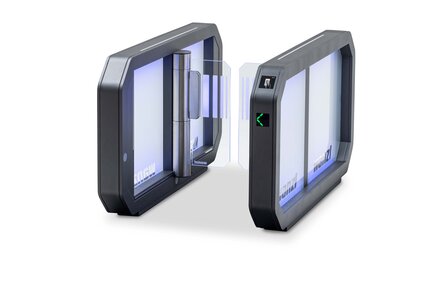 Spontaneous visitors receive their access authorisation directly at the terminal after they have accepted the visitor conditions and received a safety briefing via the V21 monitor. Depending on the visitor's role and function, it is possible to assign individual authorisations and thus restrict access to protected areas of the building. To avoid waiting times, visitors can also register from home, from their office or on the go. Galaxy Gate 1.1 scans the personal QR code sent in advance. The software-monitored, electromotive ESG swing arms open immediately, allowing the visitor to enter. Galaxy Gates 1.1 are equipped with integrated, intelligent sensor technology for increased security. This sensor system detects if a person is attempting to gain unauthorised access. In addition, the identity of the visitor can be checked before entering Galaxy Gate 1.1 by scanning an ID document. This ensures smooth and secure access for all visitors.
Optimisation through digitalisation

The VISIT visitor management software from ASTRUM IT ensures smooth processes in the background, from appointment coordination and registration to leaving the building. For users, this means a simplification and automation of visitor and delivery traffic management as well as the possibility to digitally map the entire visit process. Using this GDPR-compliant software, an overview of visitors, contractor employees and suppliers in the building or on the premises is maintained at all times and the duration of their presence is measured and documented. In other words, it's digital visitor management in real time. The perfectly coordinated products from Wanzl and ASTRUM IT enable companies to reduce staff workloads, avoid waiting times, optimise internal processes and increase site security.