RC/S9 roll cage
Optimised loading platform for truck transport
Fully enclosed
Basis for many customer-specific designs
Mobile container with rigid design, Euro pallet basic dimensions, broad range of applications thanks to accessories and various design options
Send request
For order picking for dispatch
Chassis and shelves with wooden support (3 levels on each side). Divider in centre. Adjustable shelf dividers.
Intended use:
Order picking for dispatch.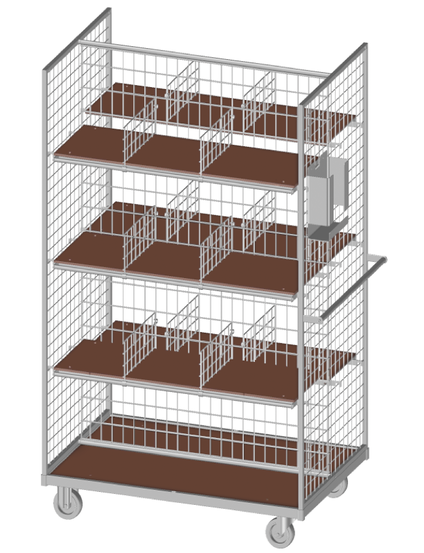 For tugger trains
With 5 wire shelves (25 mm raised edge), including 2 firmly screwed into place. Incl. clutch and drawbar.
Intended use:
Supplying the production line with components and semi-finished products.
For storage
Container with pallet, 2 door leaves on each long side, 1 dividing wall in the centre. Fully enclosed.

Intended use:
Storage of residual or small items in the warehouse.
For transporting packages
Chassis with wooden board, open at the front, with 3 tension belts.
Intended use:
Transport of packages.
For posters and small items
Fully enclosed, incl. 5 wooden shelves with compartment dividers. Rear panel with basket on outside for posters.
Intended use:
Storage of materials for placement of posters and signage.
For hanging goods
With clothes rail and chassis with wooden board.
Intended use:
Order picking and intermediate storage of clothing.