EmiLu in Stuttgart
Because everything is just right
There is a new hot spot in the centre of Stuttgart, just behind the town hall: the Design Hotel EmiLu. Surrounded by numerous restaurants, bars, art and culture, the hotel comprising 90 rooms, including 11 suites with balcony, a fitness and sauna area, three meeting rooms, the Fritz breakfast restaurant and a unique rooftop lounge called Lennarts opened in September 2021. The shared passion for aesthetics and design on the one hand, and for quality, safe transport and perfect logistics on the other hand, links two family businesses and both are committed to mutual appreciation and a reliable, fair and competent partnership in equal measure: "because everything is just right", the Design Hotel EmiLu relies on trolley support from Wanzl Hotel Service.
True to its name
The EmiLu is owner-managed. The developer and co-owner is Stuttgart-based real estate developer Michael Bräutigam, who, together with his wife Petra Luise and daughter Emilia, wanted to design a hotel identity that suits Stuttgart: "An urban feel-good atmosphere with heart and soul - and poetry! With this idea, the realisation of our family dream began. Our own hotel, which bears the basic values under the name Bräutigam and combines them with a dream close our hearts. We see it as our task to make the EmiLu even more distinctive with every day in order to offer Stuttgart residents and their guests a unique hotel experience." The vision is to create attractiveness and a quality stay through individuality. EmiLu stands for style, design, family, innovation, uniqueness and sets new standards in the Stuttgart hotel industry. The mission is for the hotel to complement Stuttgart as an attractive destination with an upscale hotel industry.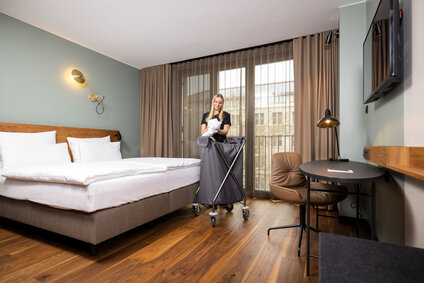 The movers and shakers within

Petra Luise is responsible for interior design and design at EmiLu and Emilia for communication and marketing. Sabrina Ochs and Andrea Kossow, both with many years of experience, are the managers of the hotel. Housekeeping is outsourced to Qleaners. The external employees are supported by two housekeepers employed by the hotel. Since the opening and also currently due to the still fluctuating hotel occupancy, the greatest challenge lies in planning with certainty in the long term, especially in the area of housekeeping. This requires close coordination with the third-party company on a daily basis. The hotel team is therefore pleased that Qleaners is fully integrated into the EmiLu family and that communication and coordination processes are short and simple. Anyone who, like the EmiLu, works with timeless style elements from the 1960s, combined with modern designer furniture and Bauhaus classics, with each room being designed differently and furnished with a great deal of attention to detail, needs a very special housekeeping and basement department. One that takes care of the furnishings properly and reliably. Designer furniture from the brands Lignet Roset, Freifrau and Arflex and auctioned vintage furniture at the EmiLu are framed by natural materials, such as real wood parquet made of walnut, stone floors, marble, genuine leather, wood and velvet. "We have tried to do justice to every room, through colour, fabric choices, curtains and furniture, and have created many beautiful rooms that all have their own charm, individuality and that our guests can call home for a short time," enthuses Petra Luise Bräutigam. No off-the-shelf interior decoration, not least for sustainability reasons. Ultimately, the EmiLu is the place in Stuttgart for all people with a high affinity for art and design, as well as people who prefer an individual, privately managed hotel to a hotel chain.
From Wanzl: transport, safety and cleanliness
Good and high-quality work equipment, including selected cleaning agents, as well as a constant, competent and value-sensitive team that fully embraces the owners' philosophy are, so to speak, a must for a hotel like the EmiLu. Changing bed linen is not the only key task in housekeeping. The daily housekeeping workflows in the rooms, in the fitness and sauna area, in the meeting rooms and in all public spaces can be managed more easily and reliably, efficiently and worry-free with the right equipment. With a range that suits all the needs of guests and employees.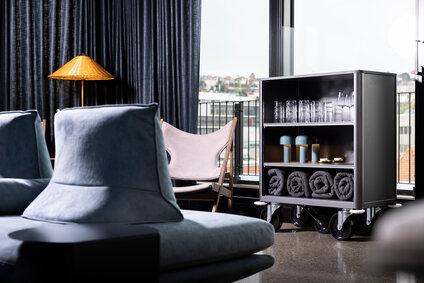 It's all about the right mix

What is important for the entire laundry cycle, whether terry cloth, bed or table linen, coloured or colourful, clean or used linen – whether for cleaning or restocking is precise analysis of the entire laundry cycle and the associated processes to ensure maximum hygiene, systematisation and standardisation. Experienced hoteliers and housekeepers know how important it is to have the right fleet of housekeeping trolleys and suitable transport trolleys, handcarts and service trolleys in-house in order to make day-to-day work and processes easier, safer and more efficient. In order for the laundry cycle between housekeeping and the most important related departments in the hotel to function correctly and flawlessly, a customised combination of multifunctional transporters, such as service trolleys and handcarts, is required to support the chambermaid trolleys. It's all about finding the right mix of different models. The EmiLu Wanzl fleet consists of six Mundus chambermaid trolleys, two service/minibar trolleys and six handcarts.
Marketing for housekeeping
Her parents Michael and Petra Bräutigam created the EmiLu so that after her training as a real estate agent, Emilia Bräutigam could join the hotel project. "Together with my mother Petra Luise, I'm part of the hotel's name. Since September 2020, I have been responsible for marketing, e-commerce and our social media channels and have had the opportunity to fully support and further develop the family project in these specialist areas. Marketing and its various facets have always fascinated me," says Emilia Bräutigam happily. "Particularly in the social media sector, I see the challenge in the fact that you have to inspire your community with new content and provide it with new attractive content on a daily basis. So I really appreciated the fact that I had the full trust of my EmiLu team and that I have been able to put my creativity to full use. I also love the contact with the guests on site."
As the discussion continued, you could sense how important a 360-degree view is to her for her marketing tasks, how intensively she deals with all the various departments and asks about their wishes, concerns and requirements.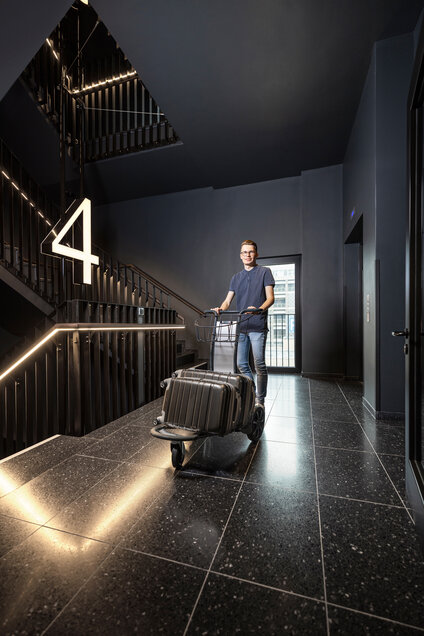 "We associate Wanzl Hotel Service with product quality and durability" ...

emphasises the housekeeping team. The last few months have clearly shown how crucial cleanliness and hygiene are for an all-round good feeling, how cleanliness and hygiene continue to be the calling card for every business. "Our housekeeping team has got to know Wanzl Hotel Service products over a period of eight years and each product has its special features and advantages. Our favourite product is our Mundus 9 chambermaid trolley. Apart from the fact that it not only looks good and matches the charm of the EmiLu, we value its equipment details and functionalities: the variably adjustable shelves and side panels, the generous space available for hotel linen, guest supplies and cleaning utensils, the foldable bars, the ergonomically rounded frame and the solid steel basic construction. Our personal highlight are the additional deflectors typical of Wanzl, which provide unparalleled protection for our high-quality design furnishings. Speaking of castors – the fifth castor for better manoeuvrability and further equipment upgrades such as more bumper profiles, colour variants, additional waste separation boxes, lockable Push & Pull drawers and roll-down panels are a real help in everyday housekeeping for a high-end trolley such as the Mundus from the brand manufacturer Wanzl. Undoubtedly, the well thought-out features, easy handling and reliable equipment of Wanzl Hotel Service products ensure that they have such a good standing in the industry."
The decision for the established company Wanzl was made due to the service they offer, which is particularly important in the hotel industry. And also due to the good quality, the durability of the products, the simple and tried-and-trusted handling as well as the competent and fast advice and delivery. When asked whether "the Bräutigams" would recommend Wanzl Hotel Service products to their hotel colleagues and why, the answer was: yes, because everything is just right.