Netto Polska (PL)
Retail expert Wanzl supports Netto Polska in remodeling around 250 stores
All done by May 2021: The first four former Tesco stores opened with the new Netto Polska design. Just two and a half months earlier, the Polish Office for Competition and Consumer Protection (UOKiK) had approved the transfer of around 250 Tesco stores to Netto Polska in Poland. The remaining stores were remodeled by the first quarter of 2022. Wanzl Polska played a key role in the huge project.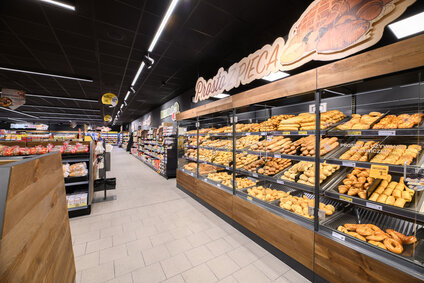 Wanzl Polska was responsible for designing, producing, supplying and assembling the shop fittings for the 250 or so branches. Three criteria were decisive in Wanzl's selection as a central partner: many years of expertise, top quality products and services, and above all, smooth and flexible project management. After all, the schedule for the remodeling process was very tight. "The keys to success were in-depth planning, the timely recognition and avoidance of bottlenecks, and the selection of strong partners such as Wanzl. Everything went according to plan. We completed the entire project in less than a year," says Jerzy Tymofiejew, Chief Investment Officer at Netto Polska. The results speak for themselves. With its modern stores, Netto Polska provides its customers with an excellent shopping experience. Visually, the stores and their minimalist design reflect the retail chain's Scandinavian roots. Wide aisles, neutral lighting and natural materials in the interior design ensure the greatest possible comfort for shoppers. Jerzy Tymofiejew explains: "With the new store design, we are creating visually appealing stores that are also as functional as possible at the same time. The introduction of self-service checkouts that speed up the shopping experience also contributes to this. All these features are appreciated by Netto Polska's customers."
On-time, appropriate, perfect – project management with Wanzl
A large proportion of the shop fittings in the new Netto Polska stores come from Wanzl. The retail specialist was able to impress with its customer-specific design options. "We wanted solutions that suit our Netto concept and meet the needs of the respective stores," explains Jerzy Tymofieyev, adding: "Protecting the environment and using store equipment made from recycled materials are also important to us." That's why Netto Polska's stores use the environmentally friendly Salsa Eco shopping trolley. Up to 75% of the plastic basket is made of materials from a closed recycling process. In general, the usual high quality and durability of Wanzl products support Netto Polska's approach to sustainability. Wanzl also supplied customer guidance systems, Technoport gates and the latest generation of its baked goods display unit. For more than two decades, Wanzl has been working with grocery retailers to develop a sales system that allows fresh baked goods – from bread to confectionery – to be presented particularly attractively in retail outlets. With the new baked goods presentation system in Netto Polska stores, baked goods are placed directly behind the glass door giving customers the maximum incentive to buy. The intelligent Technoport gates play an important role in Netto Polska's updated store concept. They manage customer traffic fully automatically in a user friendly way, especially when customers leave stores via the new self-checkout zone. In addition to production and delivery, Wanzl was also responsible for fully installing the equipment. "Eight truck-loads of goods left the Wanzl headquarters every Monday. Eight assembly teams set off at the same time. We carried out six to ten installations a week," explains Magdalena Kwietniewska, Senior Director at Wanzl Polska.