Edeka Stadler + Honner (D)
Munich's largest luxury store – EDEKA Stadler + Honner opens new supermarket
The new EDEKA Stadler + Honner in Unterföhring offers its customers everything their heart desires on a shop floor of 7,500 square metres: a fresh-food counter with cheese rounds and gammons the size of punching bags, regional fresh fruit and vegetables, an exquisite wine department including a champagne bar and many more luxuries. This store is therefore more like a food customer experience world than a supermarket. A total of 95 employees ensure that customers always have what they need. Retail expert Wanzl, whose expertise the family-owned company Stadler + Honner from Frauenau in the Lower Bavarian district of Regen has relied on for over 20 years, planned and implemented the spectacular store in Unterföhring near Munich. "When we knew that we wanted to open a new store of this size, we knew we would need Wanzl's help again. Wanzl has been providing us with reliable support as a complete solution provider for years and is experienced in our shopfitting projects," explain the managing directors of Stadler + Honner, Stephan Stadler, Hans-Jürgen Honner and Daniel Honner.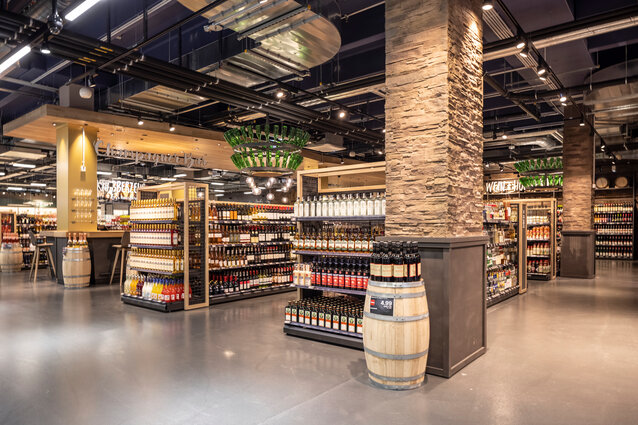 Focus on regional origin, sustainability and quality in the design concept
Absolute freshness and quality, sustainability and local producers: this is what "Die Frisch-Nachbarn" and Stadler + Honner stand for in all ten of their stores. "The collaboration made a good start from the very beginning, as highest quality and sustainability are also Wanzl's philosophy and this is reflected in everything we do," says Tino Pilharcz, Key Account Manager at Wanzl. In the end, Wanzl realised the conceptual focus on authentic enjoyment, regional origin and sustainability for the store's design in Unterföhring.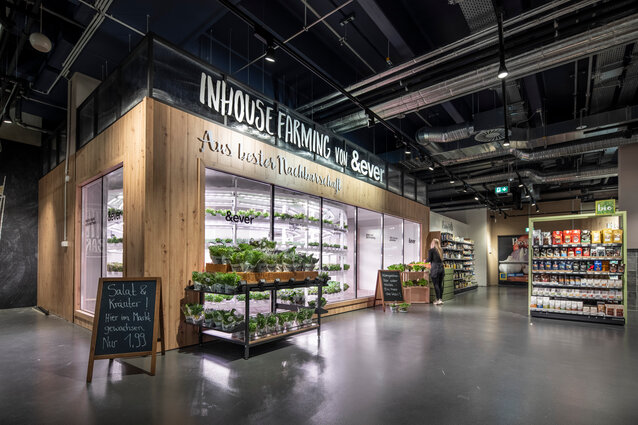 "Our entire colour and material concept aims to meet this requirement. For instance, we used a lot of wood finishes and generally opted for sustainable and fresh colours such as green, which evoke associations with nature and natural elements in customers. We also opted for a not too deep blue ceiling that represents the white-blue Bavarian sky. This design concept is apparent throughout the entire store and makes the proximity to the customer, the region and the love of food tangible," Pilharcz continues. The integrated concept of the "Frisch-Nachbarn" was developed by the communications agency, Söllner Communications from Munich, the implementation of which is coordinated by them at the PoS. Stadler + Honner do not want to be the strangers from Frauenau, but see themselves as a friendly and contemporary neighbourhood meeting place in Munich's north-east, where appreciation, regional items and quality promises really count.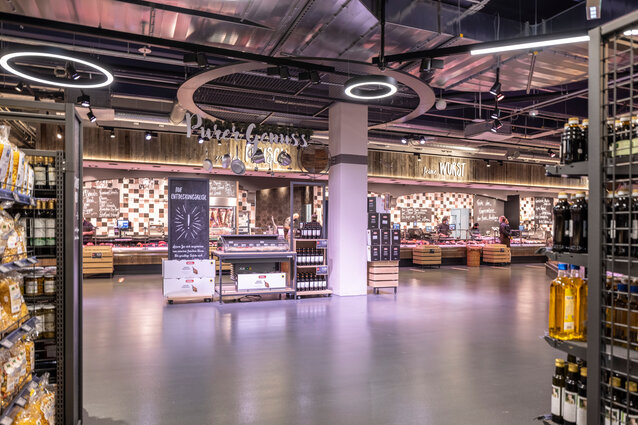 Strategically placed points of interest as a highlight for customers
With a shop floor of 7,500 square metres, the store's size posed a challenge with regard to the customer journey. Ideally, the customer should visit every department in the store once and, in a best-case scenario, discover products that they did not initially have on their shopping list. This was not too easy to do given the many aisles in the new EDEKA – the customer could take a shortcut at any time and miss out on something interesting. Wanzl, of course, had a solution at the ready: strategically placed points of interest representing special highlights for store visitors, which customers simply cannot fail to notice.
"For instance, customers have the option of tasting coffee from the store's own roastery in one area. We have also made food accessible and tangible by hanging huge cheese rounds and gammons over the butcher's counter. There is also a small confectionery bar in front of the Lindt shop-in-shop, which is reminiscent of a stand at the funfair. These points of contact grab customers' attention and encourage them to buy and linger," explains Pilharcz. In addition, the store offers further impressive points of interest, such as a non-packaged area and the first in-house farm in a German supermarket from the start-up "&ever". In the latter, customers can watch lettuce growing through a glass window and purchase them when they are big enough. It does not get any fresher than this!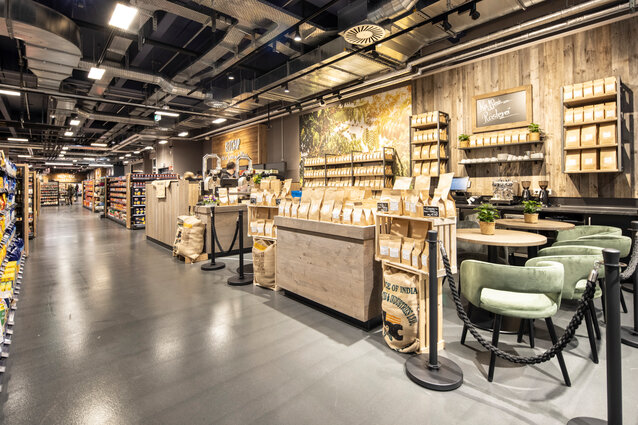 Complete solution provider Wanzl takes care of implementation and installation
Wanzl partnered with Stadler + Honner from the first 3D animation to the opening of the store. The first planning meetings took place as far back as 2018. In a trusting collaboration with the family-owned company and the EDEKA store planning department, Wanzl brought this mammoth project to life in an interior design phase lasting around three months. "A lot of teamwork was required to implement a project of this unusual scale. Several people from the areas of sales, planning and design, project management and administration at Wanzl worked with great passion on the project. We first created a virtual 3D animation of the entire store with our concept ideas, created mood boards and colour collages and finally ensured that the implementation worked smoothly and that every little screw was in place at the right time," explains Pilharcz.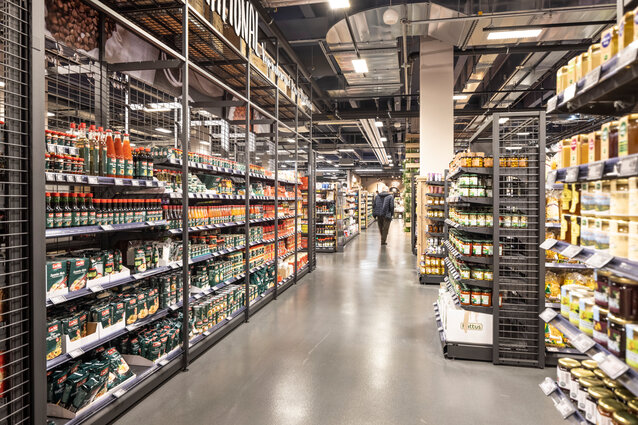 There is also a lot of Wanzl in the furnishings. Special presentation furniture such as wooden furniture that looks like market stalls in the fruit and vegetables section wonderfully showcase the extensive range, consisting of 50,000 articles – primarily foodstuffs. "Our Wire tech 100 and Vitable shelving systems in the fruit and vegetable section ensure maximum transparency, which is a decisive factor for the presentation of the product range. The goods seem to be of higher quality and more visible when placed on open shelves than in closed systems," explains Pilharcz. Wanzl has also realised non-food areas in the store, namely a florist, a kiosk and a tobacconist. Individually tailored special presentation fittings, such as counters and table solutions, are also used there. The new shop also offers customers other non-food sections such as a post office, a place to eat, a pharmacy and a branch of sporting goods manufacturer, Decathlon.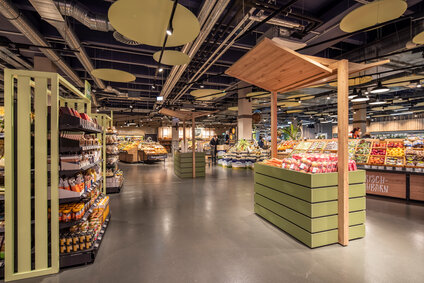 Successful collaboration for more than 20 years
Wanzl's metal shelves also live up to the sustainability concept, which is important to Stadler + Honner. Pilharcz explains: "Stadler + Honner has come to appreciate our shelving systems over the course of our more than 20-year collaboration and has chosen them time and again. We have high-quality metal products that are very durable, virtually indestructible and reusable. Customers often purchase the system once in 15 years and only add to it when renovating. Sustainability and quality are also our top priorities when it comes to raw material procurement, coating and safety precautions for our products," explains Pilharcz.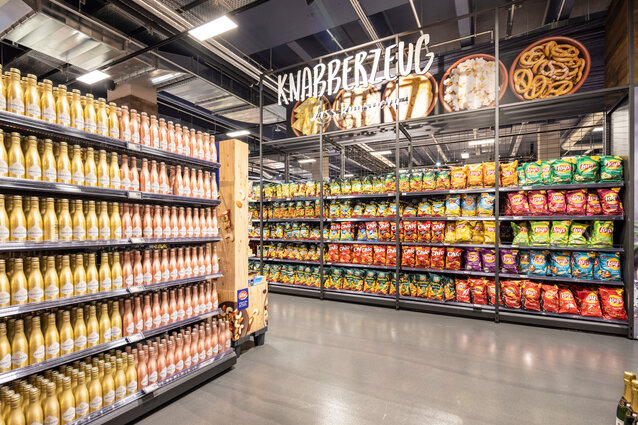 Due to the coronavirus pandemic, Stadler + Honner also installed Wanzl's 3D People Counter, which can be used to limit the number of customers who can be in the store at the same time. Pilharcz describes its function as follows: "The 3D People Counter automatically records how many people enter the store by means of a stereoscopic camera. When the maximum number of persons of currently 416 customers is reached, a red visual display appears on a large screen in the store's entrance asks customers to please wait. The system thus helps to minimise the risk of infection." Data protection requirements are of course met, which is confirmed by a certificate from ePrivacyseal GmbH.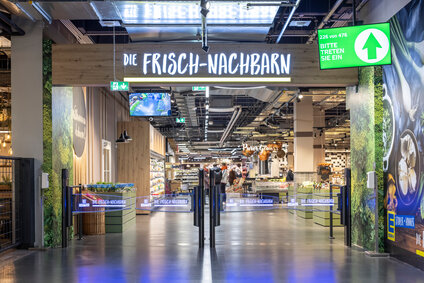 The new EDEKA Stadler + Honner "Die Frisch-Nachbarn" in Unterföhring is the ultimate flagship project of the long-standing collaboration with Wanzl spanning over 20 years. It began with a store in Straubing in Lower Bavaria in 2001, which was designed jointly by Wanzl and the family-owned company. According to Pilharcz, the collaboration was always pleasant, cooperative and friendly. The managing directors of the family-owned company Stadler + Honner agree whole-heartedly with this: "We chose Wanzl again for this major project because of our confidence in their expertise shopfitting solutions, high-quality products and flawless service – for many years. Wanzl has optimally integrated our concept of freshness, quality, regional origin and sustainability into the design of the store."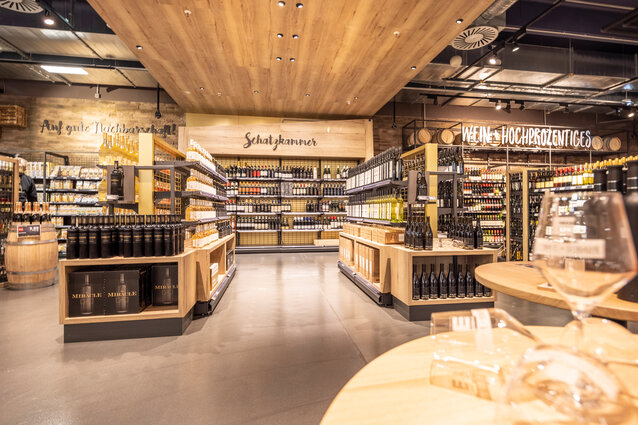 We always find the collaboration with Wanzl to be very cooperative and friendly and felt well taken care of right from the start. We are very proud of the result and look forward to finally presenting our impressive store to our customers.

Die Geschäftsführer des Familienunternehmens Stadler + Honner