Ready for summer
Naturbad Königstein relies on ticket machines from Wanzl
Rising temperatures, bright sunshine, the summer of 2019 is gaining momentum – and so is the swimming season. Young and old crowd into the outdoor swimming pools to refresh themselves by jumping into the cool water. Naturbad Königstein of the Bad Königstein market in the Upper Palatinate region of Germany is well-prepared for the crowds. Here, the V21 ticket machine from Wanzl Access Solutions ensures fast and convenient access. "It has become increasingly difficult to find cashiers for our natural outdoor pool. We therefore had to look for alternatives in order to ensure that our guests could continue to have easy access," says Oliver Berger, Managing Director of Marktwerke Königstein GmbH.
Situated in the well-known Frankenjura recreation area, Naturbad Königstein is a popular destination for people seeking relaxation. Not surprising, as it offers ideal conditions: water from a natural spring, a separate water play area for the "little" bathers and a spacious lawn for sunbathing. In addition, active guests will find numerous opportunities to prove their skills, for example with beach volleyball, the diving rock and diving board or with an outdoor chessboard. Oliver Berger explains: "Our natural outdoor pool welcomes around 15,000 visitors a year. This means that we play an important economic role in the Bad Königstein market. In order to accomplish this task, wise investments must be made. Installing a ticket vending machine was a key element in the long-term structuring of our financial capacities. Our shortage of personnel is thus eliminated and our overall costs are considerably reduced."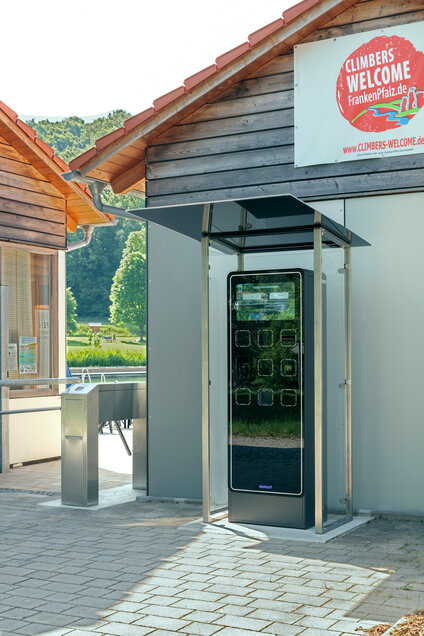 Economic reasons were the deciding factor for the use of a ticket machine. Further criteria were added when selecting the final product. "Entrances are critical points. After all, our visitors want to get to the pool as quickly and easily as possible. This means that our ideal ticket vending machine should be easy and self-explanatory to operate, function flawlessly and take over the entire ticket sales process," says Oliver Berger, describing the requirements – in the end, Wanzl's V21 ticket vending machine convinced him. Like an oversized smartphone, it receives visitors and guides them quickly to the required ticket thanks to interactive menu navigation. Each step is displayed on the clearly arranged 21'' touch screen in a way that is easy to understand; LED strip lights around the respective fields of action also indicate whether they are operational. In this way, guests can immediately see what needs to be done. Payment is made in cash, but an upgrade to EC/credit card payment is possible at any time. Naturbad Königstein is a popular destination for people seeking relaxation. Once the payment process has been completed, the integrated printer generates a ticket with a barcode. This now simply needs to be scanned at the entrance turnstile and then bathers can go straight in for some fun in the pool.
If the guests are happy, so is the owner. Oliver Berger confirms: "Visitors have quickly adapted to the convenience. They save time and we save resources. Our employees can take care of visitors' welfare where it really matters: in the pool facilities. We are completely satisfied with Wanzl as our partner. The planning, installation and services were superb. Thanks to Wanzl's roofing solution, outdoor operation is no problem and the machine has been running smoothly since the software had a system update." The ETISS ERP management software in the V21 ticket machine developed by Wanzl not only controls ticket sales, but also provides comprehensive evaluations in real time, such as automatic counting of visitor numbers and statistical evaluation of season ticket usage. Oliver Berger mentions another special feature: "With the machine's touchscreen we have an additional information platform. We use this function for advertising ourselves on the one hand and offer it to partners for their own advertising on the other."