Mini stores generate additional revenue from long-stay accommodation
Long-stay accommodation is a major trend in the hotel industry. With the expertise of the mini store, Wanzl Hotel Service can open up new opportunities for the hotel industry to attract gues
"Wanzl Hotel Service develops modular mini store concepts for lobbies or other suitable hotel areas such as foyers, intermediate (mezzanine) floors or similar. This means that hotels can now meet the needs of their guests at any time of the day or night. Whether snacks, chemist's items or the hotel's own souvenirs and merchandise – the individual mini stores offer space for everything that guests may desire,"says Franziska Hänle, Senior Director of Hotel Service at Wanzl GmbH & Co. KGaA about the long-stay accommodation offers and additional sales potential. "In addition to furnishing sales areas, auxiliary items and services can also be offered to long-term guests, such as a wash basin and a self-catering area comprising a microwave and coffee machine. A special feature is that, if desired, mini stores can also be operated autonomously, i.e. without staff, with the help of a self-checkout."
Insider tip: opportunities to increase revenue per guest
Hotels can offer grab-and-go breakfasts, where previously no or only a limited offer was possible. In addition, long-stay guests can now buy snacks, beverages and cosmetics directly from the mini store and no longer have to leave the premises to shop – which means that the revenue remains in the hotel. The selection of products is far greater than that offered by a minibar or vending machines and just as individual as the store design. Staffless operation also saves on personnel costs. This makes it possible for costs to be amortised quickly.
Made to measure: mini store solutions can be easily adapted to the needs of the hotel and its guests
Both the mini store design and the product selection (ranging from shelving systems, bakery and coffee station to refrigeration) can be individually tailored to the hotel's requirements. Wanzl has its own specialist planners and interior designers who take care of each hotel personally and develop tailor-made designs – according to host and guest requirements, budget, corporate design and available space. Hoteliers can draw on Wanzl's decades of experience in the retail sector. Here, the company has long proven its role as a provider of complete solutions: from planning and project management to installation and service.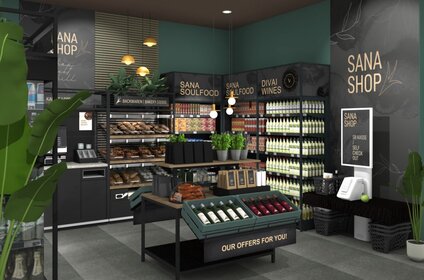 Easy and quick: standard versions are also available
Would you still like to use Wanzl's high-quality products for your mini store, but do not require a tailor-made interior design? No problem – the shelving systems, baked goods modules and refrigeration units from Wanzl can also be ordered as standard versions. Together with our interior design experts, you will find the best product combination for your hotel's needs.
Seize opportunities: increased profit with Wanzl's expertise
Demand for long-stay solutions is growing constantly. Wanzl is known as the global market leader for shopping trolleys and shop design, which is why the hotel sector benefits from this knowledge and can seek advice from its in-house experts. Demand for individual mini store offers is growing enormously and the various hotel accommodation options benefit from Wanzl's know-how from other industries. In addition, hoteliers can optimally meet guest requirements with the digital concept. Long-stay guests can serve themselves: from shelves and display cabinets – comfortable, clear, around the clock.
The Wanzl answer to long-stays
"The topic of long-stay accommodation has long been on the agenda in the hotel industry. During lockdown and the pandemic, the idea arose to give people an additional retreat in the hotel and proactively market long-stay offers. The demand for solutions for specialised services for long-term stays is constantly growing," says Franziska Hänle, summing up discussions with customers in recent years. "With decades of experience in the retail sector, Wanzl Hotel Service is now in the fortunate position of being able to offer hoteliers an answer to "how to provide temporary long-stay offers for guests" with individual mini markets and innovative high-tech mini stores."