Deutz-Fahr, Lauingen (D)
Europe's most advanced tractor plant: floor rollers for intralogistics
The huge halls in distinctive green and grey are recognisable even from a distance: DEUTZ-FAHR has built Europe's most advanced tractor production plant in Lauingen, Swabia at a cost of around 90 million euros. It is the largest single investment by SDF Group, the Italian parent company to which the Lauingen DEUTZ-FAHR factory, with its approximately 750 employees, belongs.
The gigantic DEUTZFAHR LAND production hall is complete. Up to 40 tractors roll off the conveyor every day: all high-performance machines featuring more than 130 hp. The rear tyres of the largest model are 2.35 m in diameter and weigh approximately one tonne. Cutting-edge technology is used to produce the tractors here. Operations inside this 150,000 m² plant are impressive. The assembly lines run to hundreds of metres long, with a conveyor belt running between them. This conveyor belt is where the tractor unit stands while being put together, one piece at a time, eventually revealing the finished tractor. The 1,650 Wanzl floor rollers come into play here: used as a train system, they transport production components in lattice boxes on schedule and in line with production cycles. The material is supplied based on the principle of "supermarket kitting".
This means that the train system, together with the floor rollers, shuttles between the production lines and the "supermarkets". In the "supermarkets", assembly components are made available on the floor rollers on a just-in-time basis, for low-cost and quick, lean production. Depending on the design, the rollers can transport loads up to a tonne. It takes just 16 hours to fully assemble one of the giant green tractors. From Lauingen, the machines are then sent all over the world, particularly to Western and Eastern Europe, but also to America. In the long term, the Group plans production of up to 6,000 machines per year.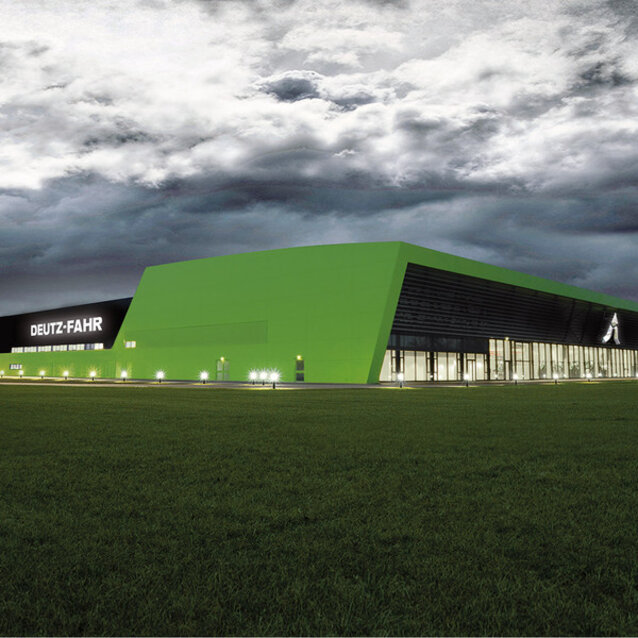 In addition to the tractor production facilities, DEUTZ-FAHR has also built the DEUTZ-FAHR ARENA, a 3,800 m² customer centre containing a cinema, cafeteria, museum featuring historic agricultural machinery, children's play area, test track and major exhibition area.
Wanzl floor rollers for tractor production – 800 pallet-size units (1,200x800mm) and 850 half-pallet-size units (800x600mm). The prototypes were created in summer 2016, with Wanzl starting series delivery in August International logistics supplier Wanzl did not have to go far from home to serve DEUTZ-FAHR: the companies have headquarters just 30 km apart.
Intralogistics: Wanzl delivered 1,650 floor rollers in two sizes to DEUTZ-FAHR. These are used to optimise the flow of materials in intralogistics, delivering lattice boxes with the assembly components required to production lines, in order to appropriately meet cycles and deadlines.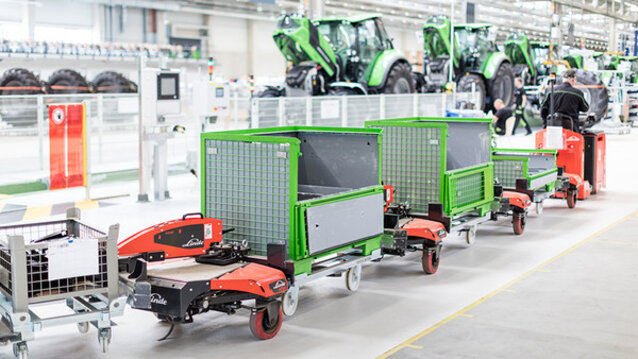 "Our floor rollers support lean logistics. They are currently used in a train system at DEUTZ-FAHR, but equipped with a coupling drawbar mechanism, they can also function independently as a tugger train. In addition, they can be coupled with a driverless transport vehicle – that's Industry 4.0 in practice."

Markus Spengler, Leiter Geschäftsbereich Wanzl Logistics + Industry