The convenient way to pay
Innovative payment machines for intelligent cash management
Banknotes and coins remain an expression of self-control, freedom and security for many Germans. This is proven not least by the heated discussion surrounding an upper limit for cash payments, which many have speculated marks the beginning of the end for cash. Currently, every third person in Germany prefers to pay with cash. That is, they still prefer to pay with cash, since the trend is moving towards cashless payment, with younger people in particular opting more and more frequently for this method. A number of factors play a role in selecting a payment method; these include the amount to be paid, personal preferences or simply the location in which the payment is made. Swimming pools, arenas, car parks, canteens, and a great many other public and semi-public facilities are therefore opting for flexible systems that combine both cash and cashless payment capability: automated pay stations. Thanks to the use of individually configurable equipment modules, Wanzl offers a comprehensive range of cross-industry solutions.
Universal & flexible

All Wanzl payment machines are characterised by the highest levels of comfort and user-friendliness. Whether it is a prepay machine, a ticket machine or a payment machine, each device is used via its clear, 15-inch PC multi-touch screen with interactive and intuitive menu navigation as well as user-friendly integrated payment functions.
The innovative prepay machine is the ideal solution for arena, fitness studio or canteen operators. Each of the machines features separate payment processes, and serves a largely stable customer base as well as a steady stream of occasional users. Wanzl offers a unique service for these occasional users in particular: customers can feed their ticket into the machine at any time and the machine will pay out their remaining credit and retain the ticket. Visitors print out the prepaid tickets in advance, directly at the machine, and top them up conveniently using cash or a credit/debit card. Ticket identification and authorisation of cash payments and payouts take place via a contactless reader.
The ticket holder can also request a receipt to check their transactions.
The Wanzl ticket machine is a real all-rounder. Whether it is used in sports and leisure facilities or catering facilities, by a regular visitor or a one-off guest, ticket payments can be managed automatically and easily. The device includes a ticket and tag printer with graphic capability, and a reader for authorising membership and club cards.
Wanzl payment machines are designed for processing payments for limited-time services, e.g. in swimming pools, sports and leisure parks. This enables the guest to decide spontaneously to access the service for longer, and pay the difference owed at a later point. At the same time, the operator can be sure of receiving the missing payments.
Efficient & autonomous
One of the major advantages of payment machines is the way in which they operate. They use state-of-the-art software technology to regulate complex machine transactions quickly, effortlessly and independently. The standard equipment for all Wanzl machines comprises coin intake including automatic resorting for automatic replenishment of the change reserve. The machines are equipped with two coin hoppers, each handling approximately 1,100 coins, as well as a cash box that can hold approximately 2,200 coins. A banknote acceptor with integrated payout function is also included as standard. The basic equipment of the prepay and ticket machine is complemented by a credit/debit card terminal, complete with PIN pad, which can also be integrated into the payment machines on request.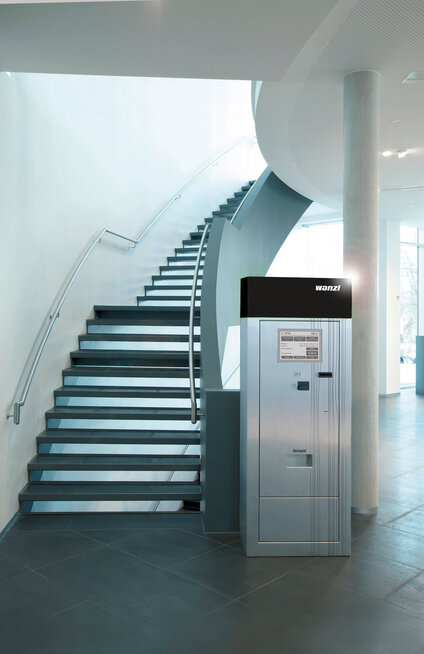 Reliable & individual

Machine transactions require comprehensive security measures – both analogue and digital. Therefore, all Wanzl payment machines come with a theft-resistant multi-point locking system, an integrated alarm system and a stainless steel housing that is as elegant as it is robust. This makes the machines suitable for both interior and exterior use. Special Wanzl roofing solutions also offer protection against moisture and the cold. ETOSS (Electronic Transaction-Secure Operation Software and Service) protects machines used in interior locations. All data traffic between the machine and the application takes place exclusively in encrypted form. Finally, an external control function optimises the security measures in place. The payment systems are connected to the Internet via LAN interface, which allows for central software distribution and remote maintenance – contemporary, effective and customer-focused. Wanzl also guarantees customer orientation through customisation. That is why the layout of the screen components can be fully adapted to reflect the corporate design of the respective operator. Finally, those who wish to do so can add the finishing touch to their machines with a tailor-made, illuminated top piece.