E.Leclerc, Le Relecq Kerhuon (F)
The stage is set for exquisite French chic
Staged to perfection – in the wine department of the E.Leclerc hypermarket in Le Relecq Kerhuon, Brittany, a single bottle is presented as if on a throne. An open platform with a ceiling cube placed symmetrically above it in brilliant snow white draw all the attention. The wine is the star, presented on a stage. Two spotlights integrated into the bottom of the cube create the effect by immersing the dark glass of the exquisite bottle in bright light. There is also a comprehensive product description. This unique presentation of products is part of the well thought-out shop design of Wanzl France.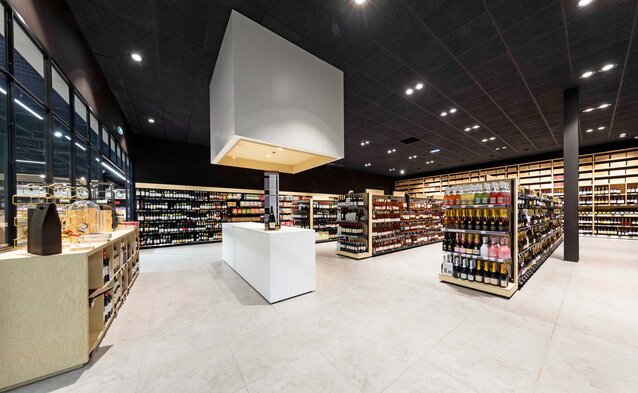 The whole interior of the hypermarket follows a clear line of solid wood, dark black steel and floor tiles shining in light grey. The focus is on the products. A fresh look at the wine department demonstrates this: the varied display on the shelves with individual bottles creates a unique effect, while wine crates are stacked up to the ceiling against the walls of the department, waiting to be picked up. The E-.Leclerc product range also impresses beyond the wine department with its wide variety of products – besides fine wines, convenience merchandise, books and multimedia offers are waiting to be discovered. Tailor-made presentation systems set the stage for the different products. Specific end cap shelving, "arts de la table" tables and showcases in the wine rack were specially developed to make special placements even more individual for customers. Numerous spotlights and batten luminaires illuminate the store like stars in a black sky – spot on for high-impact product presentation.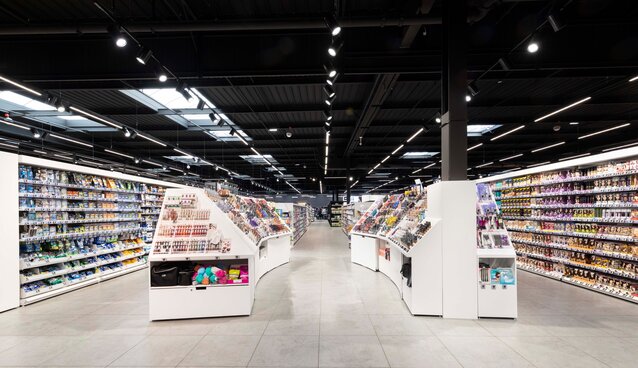 When customers enter the cosmetics department, curved white wooden furniture takes them into an elegant beauty paradise. The basic style of the shop design remains the same, while the block-like structure of the white shelving systems visually sets the department apart. The multifaceted colours of lip gloss, eye shadow and make-up create a distinctive effect against the stripped-down presentation area, illuminated only by ceiling lights. A very special highlight is the large selection of organic products for self-filling. The entire shelf wall is fitted with transparent containers in which pasta, cereals and nuts are shown off to their best advantage. The natural colours of the unpackaged goods blend harmoniously into the overall concept of light floor tiles and wooden elements.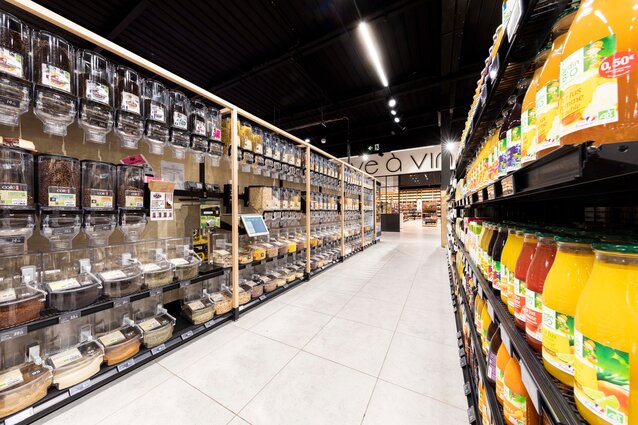 Que belle – the clothing section exudes the flair of an elegant French boutique. This is already ensured by the illustrious name atelier K, which floats above the department in black lettering on a huge white cube. Extravagant sales systems present the fashionware between predominantly black metal structures. Clothing racks and oversized shelves, all of which are mobile, triangular in shape and made of light wood, or specially designed nesting tables with filigree wire grids provide a special stage for the merchandise.