SWR Stuttgart (D)
Added safety for SWR Südwestrundfunk Stuttgart
With editors in three broadcasting centres, ten studios and 20 regional offices in Baden-Württemberg and Rhineland-Palatinate as well as the main studio in the capital city of Berlin and correspondents in key locations around the world, Südwestrundfunk provides news about current events and life in southwest Germany. In the time before the coronavirus pandemic, around 2,000 people entered and left the multimedia studio in Stuttgart on an average day. "Having so many visitors every day requires quick and smooth authentication of persons," says Annegret Nicht, project manager and specialist engineer in the field of electrical engineering and safety at SWR. The company has recently placed its trust in the know-how of access expert, Wanzl, for ensuring controlled access to the broadcasting centre. "The three access gates from Wanzl replace the previous turnstile access system. The existing controls no longer met the current standard and were becoming prone to malfunction," Annegret Nicht explains. "With our Galaxy Gates 1.1, we enable employees and visitors to access the SWR building quickly and smoothly. Up to ten people per minute can pass through individually," explains Andreas Fischer, Wanzl Access Solutions.
In addition to the throughput frequency, the issue of security played a particularly important role in the decision to opt for Wanzl Galaxy Gates. "Of course, building security is paramount for a public building such as the SWR. That's why we decided to install a fully automated access system," says Annegret Nicht. "The key task of access control systems is to make access to defined areas only possible for an authorised group of people, while at the same time maintaining an open, modern and friendly atmosphere at reception," adds Andreas Fischer. Access expert Wanzl achieves this balancing act superbly with its innovative products: enhanced security that is discreet and understated. The Galaxy Gates are equipped with integrated, smart sensor technology. This sensor system detects if a person is attempting to gain unauthorised access. For example, unauthorised opening, forceful pushing through or crawling under is indicated by means of a light and acoustic signal. The access controls can also be adapted to suit highly individual requirements by means of various other equipment options. At SWR Stuttgart, safety glass tall swivel arms ensure additional safety and efficiently prevent the system from being climbed over.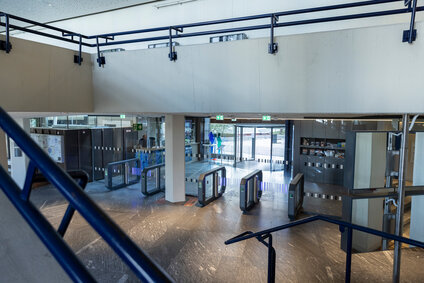 The safety glass swivel arms also fulfil an important function in terms of design as the SWR Studio Stuttgart is located in a listed building. The access gates had to integrate perfectly into the existing foyer. It was crucial that the open line of sight was maintained here. "The Galaxy Gates convey the desired lightness and transparency. A second requirement was to harmoniously integrate the access gates visually into the ambience of our foyer, which consists of black marble flooring, light colours and wooden ceilings," explains Annegret Nicht. With their matt, black housing, the Galaxy Gates integrate perfectly into the foyer. In addition, some architectural peculiarities had to be considered in the context of the listing. The size of the gates had to be adapted and integrated according to the frequency of the pedestrian traffic and type of use.
But the advantages of fully automatic access lie not only in access security and design. "Wanzl Galaxy Gates are primarily used for employee authentication and thus reduce the gate staff's workload. Thanks to the quick and uncomplicated authentication, the gates were well received by the employees in Stuttgart," Annegret Nicht is pleased to report. RFID card readers and Wanzl's Access Manager are used as release units. For the simple release process, employees must have their employee ID ready for scanning. A special Galaxy Gate function is available for people with limited mobility. The system automatically knows whether a wider passage is required due to the card data on file. "In this case, the Galaxy Gate opens 100% and allows a passage width of up to 1,125 mm. This ensures barrier-free access," explains Andreas Fischer. In addition, this gate function makes it easy to handle goods deliveries and manage visitors. If a delivery is to take place or visitors want to enter the building, they must first register with the gate personnel. "The gate personnel then release the gates to grant access. With the Wanzl Access Manager, entries can be controlled and managed very easily and flexibly," Andreas Fischer continues. Almost all Galaxy Gate parameters can be set via the Wanzl Access Manager. When visitors wish to leave the building, there is no controlled check-out; the system is permanently open.

"It was the right decision to opt for the Galaxy Gate from Wanzl. We could be sure of good quality, security and attractive design," says Annegret Nicht about the very successful cooperation. The integration of the Galaxy Gate also went smoothly. "We were again able to prove that we are a competent partner for access solutions and score points with our absolute reliability and adherence to schedule," says Andreas Fischer with satisfaction. In addition, Wanzl's system technicians and SWR's system administrators collaborated in a collegial way. The cooperation is now to be extended to SWR's sites in Baden-Baden and Mainz.