Cruising the world's oceans
AIDAnova relies on extensive equipment from Wanzl
AIDA Cruises and Wanzl – a successful partnership is being taken to the next level. After AIDAprima and AIDAperla, Wanzl is now also accompanying the youngest fleet member, AIDAnova, on her voyages across the oceans. It is AIDA Cruises' thirteenth cruise ship. With 2,500 cabins, it offers numerous guests sufficient space for an extraordinary experience: the finest culinary delights, impressive entertainment and deep relaxation – at AIDAnova everyone has their individual dream holiday. Things are set to get serious in December 2018. That is when AIDAnova will embark on her maiden voyage from Hamburg to the Canary Islands. And, of course, on board: Wanzl. Over 1,000 trolleys on board ensure first-class service in housekeeping, room service, laundry and luggage transport.
Individual housekeeping on the high seas
Special and tailor-made! Around 150 Mundus chambermaid trolleys were perfectly adapted to the special requirements of the AIDAnova. Three flexible shelves in the body offer sufficient space for fresh laundry. Dirty laundry, on the other hand, gets its own container – the flexible and highly effective Nova laundry cart. It can be detached from the Mundus with just one movement and rolled into the cabins separately. Meanwhile, the Mundus can still be manoeuvred using the fold-out push handle. Two additional removable and washable plastic bags for cloths and rags are attached to the exterior side of the Nova itself. This is indispensable for the housekeeping crew, because storage space and enough space for laundry, cleaning products and the like are essential. Above the shelves there is a Push&Pull drawer, which can even be locked with an individually programmable RFID lock, as well as an elegant superstructure with a foldable fabric lid. The pre-sorting system on the right-hand side of the Mundus is also a very special custom-made product. It consists of a bucket, storage tray and waste separation baskets, each of which is separately accessible and invisible to guests thanks to a specially designed cover. Sufficient stowage space, easy handling and safety are absolutely essential for trolleys on board a cruise ship. The aluminium profile, four smooth-running swivel castors and a fifth, central castor for changing direction at any time make the Mundus a manoeuvring marvel. The required stability even in rough seas is guaranteed by a reliable locking brake, which is easy to operate by means of a foot bar. The Nova also has its own locking brake.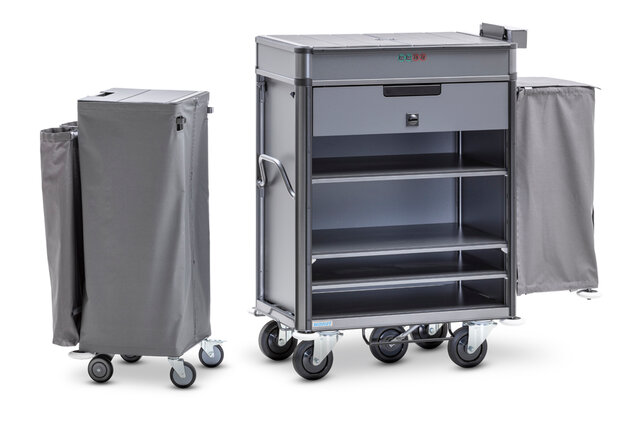 Specific transport solutions for maritime logistics
AIDAnova is a first-class, floating luxury hotel: 17 restaurants, the first TV studio on the sea, an exclusive spa area spanning more than 3,500 m2 and much more will delight discerning guests. Wanzl's Customised Solutions trolleys will be responsible for smooth operations behind the scenes. Specialised roll cruisers optimise the transport of bags and the like. Already during check-in, luggage pieces are pre-sorted and transported safely to the delivery area without further reloading. The luggage is perfectly protected thanks to an all-round lining with a special foil tarpaulin. The roll cruisers can be moved easily and safely, either manually or by forklift truck. For this purpose, the trolleys are equipped with smooth-running swivel castors and have a stable lightweight construction as well as integrated eyelets for forklifts. The dimensions of the roll cruisers were specially adapted for AIDAnova. The trolleys can now be stacked in a more space-saving manner. Wanzl also makes laundry logistics easier. The KT3 Linen Trolley was already customised further for AIDAperla and underwent another modification for AIDAnova. Excellent handling, flexible shelves and detailed solutions such as practical handles and plastic shock protection impressed customers from start to finish. The trolleys now ensure even faster and easier laundry transport.