YourTable Switch
The all-rounder at the POS
Table, shelf and tiered display stand
Flexible adaptation to different product groups
Mobile for fast repositioning
YourTable Switch is the all-rounder to grab more attention and provide more flexibility at the POS. The sales system displays the products you have on offer in a way that's always different, exciting and varied so customers are quick to snap up a great deal. The YourTable Switch is a table, shelf and tiered display all in one. The YourTable Switch owes its unique multi-functionality to its ingenious construction, which, together with the practical accessories, makes for effortless conversion and flexible use. This is what makes it so valuable on the shop floor. You'll be delighted with the YourTable Switch.
Send request
The YourTable Switch is fired up to generate additional sales and really simplifies cross-selling. Configured as a tiered display, the system provides the perfect stage for fruits and vegetables, herb pots, fine dressings or nuts so customers will be happy to snap them up.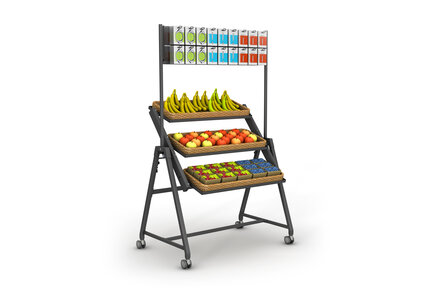 With its warm wood finish and elegant metal surfaces, the YourTable Switch really shows off your products when set up as a presentation table. The table allows you to arrange exquisite product combinations perfectly or show off the best picks from your wine section or other product ranges.
As you know, the till area is the customers' last impression of your shop, so it makes sense to wave your customers goodbye with a beautiful flower display. And, of course, you'll be able to do this by taking advantage of the practical uses of the YourTable Switch. This will cleverly encourage your customers' buying impulses in the last few metres of the shop.
YourTable Switch works wonderfully as a shelf to display loose items, which is also perfect for your pharmacy section. You can attract a lot of customer attention to your product range highlights and promotional items.
Thanks to its ingenious design, YourTable Switch can be quickly transformed into the desired presentation system in just a few steps and without the need for tools. The practical adjustment of the shelf inclination means you can always show off your product display to its best advantage.