Pilipp (D)
The WCC customer counter is a measuring tool used in Pilipp furniture stores
Recording customer flows, optimising staff allocation, planning sales promotions – the latest generation of the WCC customer counter by Wanzl is setting a new standard of precision in the field of electronic people counting.
The system reliably provides measurement of live customer flow, facilitates targeted personnel management and can be used to measure the impact of sales promotions and advertising at fixed retail locations. Since February 2014, 16 3D cameras have been installed at the entrances and exits of the Pilipp furniture store in Ansbach (in the Franconia region), as well as in various locations across four floors. They supply precise data on footfall and the time spent by customers in the store. In May, Pilipp stores in Bamberg and Bayreuth- Bindlach joined the Customer Counter WCC network with a further 26 3D cameras similarly located at all entrances and exits and on all floors.
Jochen Blatt, a computer specialist at Pilipp, manages the new recording system installed and programmed by Wanzl, who precisely adjusted each individual 3D camera.
"Up to now we had light barriers which only recorded groups and could not distinguish between people. Thanks to the WCC customer counter, measurement has improved dramatically." The Wanzl system isolates and records each person who enters, leaves or returns to a Pilipp shop and makes a purchase.
"The WCC customer counter calculates customer flow with an accuracy of up to 98%, analyses the amount of time they spend in-store and supplies accurate real-time data for the current allocation of staff at the point of sale, adapted to footfall. This makes planning more reliable for all person-dependent retail areas," explains Markus Pfitzmaier, Product Manager of Wanzl Access Systems. Unfavourable, changing light conditions and shadows have absolutely no effect on the system's counting accuracy. The powerful sensors also compensate for greater distances and vertical displacements. As a statistical marketing tool, the WCC customer counter supports the outlet's retail planning strategy in terms of current sales and advertising campaigns and identifies economic performance indicators for the location.
"We use the data to optimise staff allocation and precisely adapt it to footfall in our Pilipp Vivo! shopping world, AVANTI cash and carry, Decoforum and Happy Baby store," says Jochen Blatt.
Pilipp is currently evaluating the data recorded and has plans for flexible store opening times depending on footfall: on Sundays or in the run-up to Christmas, for example. The strategy for optimum product positioning across the floors in all three stores should also benefit from the new recording system. As should the restaurants with their busy lunchtime periods, where you are invited to eat on a different floor at each of the three locations: from the ground floor right to the top of the building. Jochen Blatt: "Using this technology, we can test the best locations so that, as well as visiting our restaurants, the customers get to know our product range and spend more time in our stores."
THE WCC CUSTOMER COUNTER with stereo 3D cams featuring 100% data protection counts every single customer. The system helps brick-and-mortar retailers in their customer frequency analysis, personnel deployment and in monitoring the success of advertising measures and sales campaigns.
precisely establish the duration of stay and footfall using 3D cameras with an accuracy of 98%
100% guaranteed data protection for customers
flexible spatial arrangement with high space efficiency
optimum planning of staff allocation for a high level of customer satisfaction
reliable monitoring of new marketing measures
benchmarking of multiple locations
a wide range of mounting options; can be combined with entry and exit systems and Wanzl control systems or can be installed completely independently of Wanzl system solutions
integration of individual customer software
compact housing, high-performance, durable 3D cameras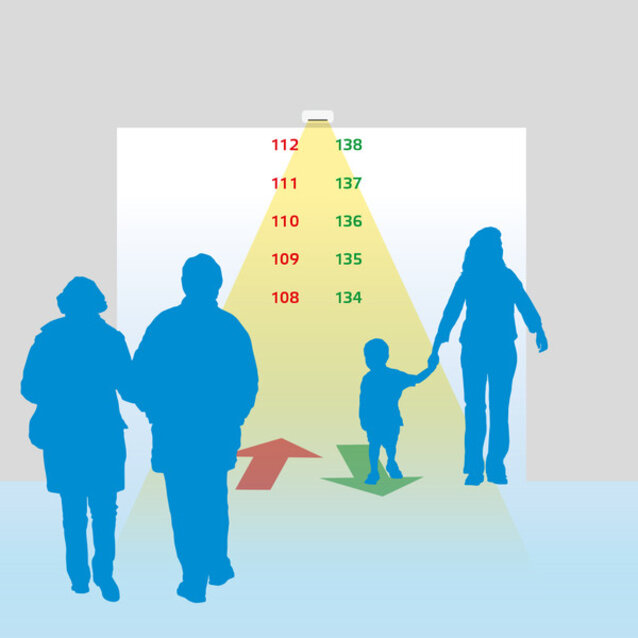 3D CAM in a compact, vandal-resistant housing and high-precision counting accuracy for individual customers of 98%
"The persons recorded are not identifiable, data protection is 100% fulfilled." MARKUS PFITZMAIER, Product Manager of Access Systems at Wanzl