nhow Berlin (D)
Lifestyle hotel on the banks of the Spree
Berlin has joined Milan as the second location for an nhow hotel.
The creativity, dynamism and urban way of life in the city on the Spree are perfectly reflected in the innovative concept of NH Hotels' lifestyle brand. Design, art and, most importantly, music exist in perfect harmony at the nhow Berlin hotel, which opened its doors in November 2010. The building was devised by architect Sergei Tchoban, while the pop-art-like interior was created by star designer Karim Rashid. The lobby and exterior area take the form of a dynamic space, where Berlin-based or international artists can exhibit their work. A unique feature for a European hotel is the Sound Floor: high above the roofs of the capital, the musically-minded can indulge themselves in two state-of-the-art recording studios. The musical concept was an obvious choice, given the hotel's location between Universal and MTV, directly at Berlin's East Harbour on the banks of the Spree. Countless clubs are situated nearby, such as O² World, the largest concert and event location in Berlin. nhow represents a new generation of hotels: unconventional, life-affirming, always on the move, with local roots but at home in the world.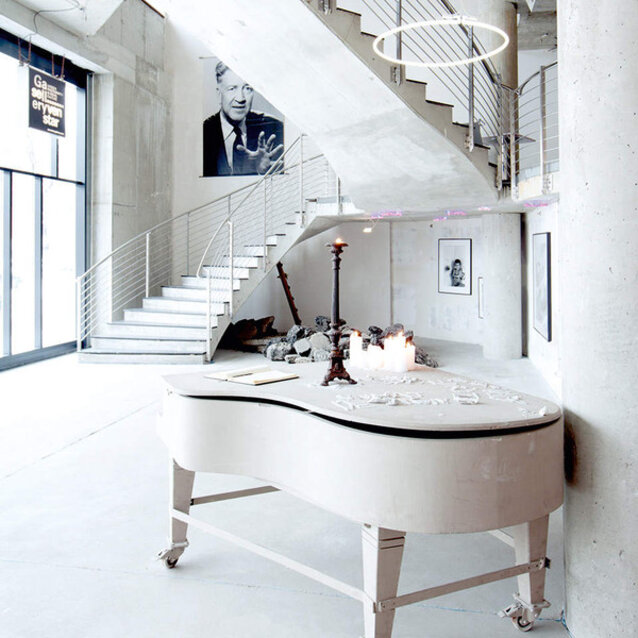 When a guest steps into the nhow Berlin, they become part of the poetic, colourful, almost surreal world of Karim Rashid.
The 304 rooms and suites are decorated with custom-made furniture and design objects featuring his typical amorphous shapes and strong colours. Optimum quality, excellent living and working comfort for guests and the overarching design all come together to form an exceptional standard, which never ceases to surprise. The IP televisions, for example, are integrated in a mirrored wall object and simply disappear when switched off. This mirrored area also serves as a shelf and a desk. The bathrooms are separated with glass walls, which let in daylight but are tinted to provide privacy. Wireless internet is available in all the rooms. With its generous space, extravagant design and direct digital networking with the music studios, the 260-square-metre nhow suite offers an experience befitting a metropolis across its two stories and a separate roof terrace.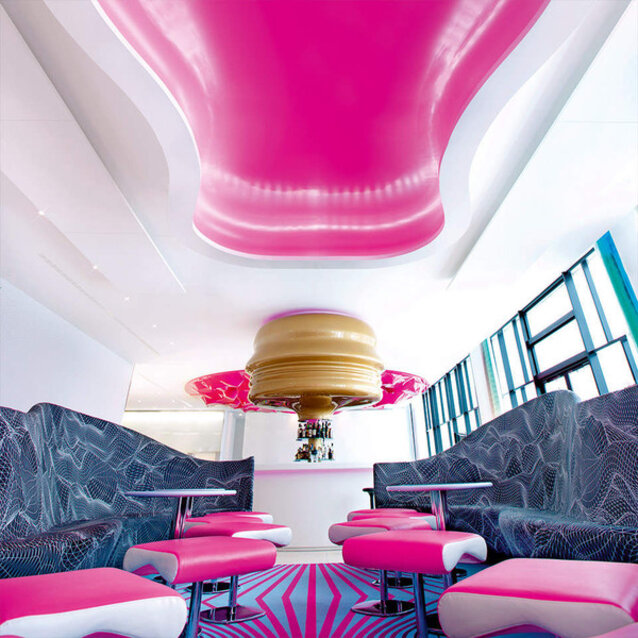 "My vision combines technology, visual elements, materials, colours and the inner need to live in a simpler, less cluttered and more sensual world."

Karim Rashid, Designer
Wanzl trolleys
The functional, cost-effective and user-friendly Wanzl products for hotel service "behind the scenes" reduce the effort required of personnel, ensure effective work processes and, at the same time, help to fulfil the high demands and expectations of guests.
Wanzl has supplied the following to nhow Berlin:
22 chambermaid trolleys, in custom aluminium design
15 room service tables, with custom chassis
Minibar restocking trolleys, in custom aluminium design
Luggage collection trolleys
Handcarts for transporting laundry
Transport trolleys
Serving trolleys
Bottle trolleys
Plate trolleys
Coat rails