Frankfurt Airport (D)
Luggage trolley coin deposit system at Germany's largest airport
Luggage trolley coin deposit system at Frankfurt am Main Airport
At the beginning of the year, Fraport AG introduced Wanzl vending units to provide luggage transport trolleys over a large area in the terminals at Frankfurt am Main Airport.
What benefits does Fraport expect to enjoy as airport operator as a result of this innovation?
Sabine Schuch: at Frankfurt am Main Airport, every passenger should now be able to find an available luggage trolley within a minute. The Wanzl luggage trolley coin deposit system has already been in operation in Terminal 2 for a year. This solution has now been rolled out across the whole airport. In exchange for a deposit of two euros, passengers can now get their hands on one of over 2,000 luggage trolleys available in total at over 100 deposit stations – roughly 80 of which were newly introduced at the end of January in Terminal 1.
The luggage trolley deposit stations are spread around the airport and are concentrated at check-in, at the luggage reclaim area, at the drop-off and pick-up zones at the terminal entrance, and at the entrances to the multi-storey car parks. Since the introduction of the coin deposit system, we have seen an improvement in the availability of luggage trolleys, and these trolleys are no longer left scattered around, blocking paths and roadways.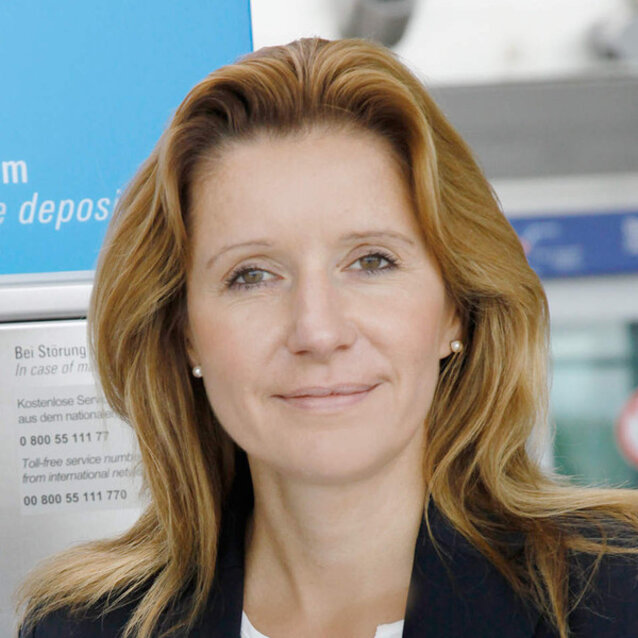 How are passengers taking to the new coin deposit system?
A change to the system naturally always involves a certain adjustment process, but with a coin deposit system the benefit is that the quick-to-find luggage trolley ultimately costs nothing. The deposit amount of two euros can be paid at payment machines at the relevant deposit station either in cash or using a debit/Maestro card or credit card. When the trolleys are returned to one of the collection points, the passenger gets the deposit back in cash.
How does trolley management work?
Monitoring of the fill level at the individual deposit stations is computerised and done via a network. This enables staff in the operations centre to monitor the current trolley stock at the individual stations as well as allowing trolley movements to be constantly traced in real time. Adapted for the current flight schedules and the associated number of passengers, an emerging demand for trolleys can be detected early and precisely controlled.
Advantages of the luggage trolley coin deposit system: