Cora, Bourgoin-Jallieu (F)
Tricolour: making Cora Bourgoin-Jallieu brighter with Salsa in colour
The basket flaps on the Salsa shopping trolley in Bourgoin-Jallieu shine brightly in yellow, orange and purple. Here in the south east of France, between Lyon and Grenoble, the retailer Cora opened its new 3,300+ m² hypermarket in September 2017. It is Cora's 60th store and the first one to open in France in almost 20 years. The Cora hypermarket at Place de la Folatière in Bourgoin-Jallieu's new town centre, together with its new residential district, has already established itself as a centre for daily shopping and urban living.
Shopping at Cora is truly an experience for the senses: the selection of food is enormous and the visit is a pleasure for every gourmet.
The focal point of the store is the Marché, the expansive fruit and vegetable department packed full of vitamins. Customers can even press their own orange juice – it does not get much fresher than that! Counters selling meat, sausages, fish and cheese are interspersed with self-service zones. The wine department hosts regular tasting sessions for fine wines. The Rôtisserie, a grill restaurant, offers fresh dishes for customers to enjoy before, during or after their shopping trip. Crispy baguettes and delicious macarons are on offer in the boulangerie, behind which the skilled bakers carefully craft their delicious goods in the open bake house. The Atelier du Traiteur is particularly impressive, as customers can watch staff prepare catering platters and finger food. In Bourgoin-Jallieu, Cora conjures up one shopping sensation after another, while the fresh, colourful Salsa shopping trolleys coordinate perfectly.
Salsa 95 at the ready
The Salsa stands for a new generation of plastic shopping trolleys: with its fresh design and very smooth motion, this trolley brings rhythm to international retail. The 150-litre Salsa is now rolling through stores around the world. The 95-litre version, ideal for short shopping trips to top up with fresh produce, and great for solo shoppers or in city supermarkets and convenience stores, will come onto the market in 2017.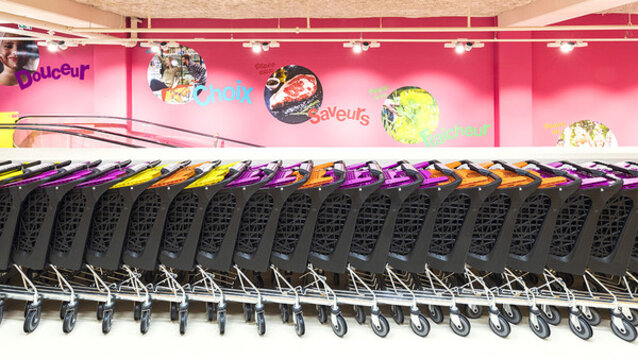 Self-checkout: in addition to the staffed till area, customers can also opt for the self-checkouts. All they have to do is scan their items at the SCO till. After paying, they receive a receipt with a barcode. Wanzl's Exit Gate is equipped with a bar code reader, which authorises the customer to pass through once the code has been checked.