Biomammut (D)
biomammut has a new checkout zone
Roland Harter, owner and Managing Director of biomammut, is a man of principle. High-quality food is important to him. This conviction was the fundamental idea behind his biomammut stores, of which there are now six in Baden-Württemberg.

Wanzl is the retail and shop solutions partner to the fifth biomammut branch in Sulz. A brand-new addition to Wanzl's range is the cash desk, and biomammut is one of the first customers to offer shoppers plenty of space at the checkout when purchasing their goods.

At the store in Sulz, customers enjoy a selection of over 8,000 products. All organic, of course. Everything here tastes fresh and natural – from fruit and vegetables, bread, cake, cheese and antipasti to dry goods. Natural cosmetics, pet food and plant accessories complete the organic range. The store is open six days a week from 8am to 8pm, and every shopping experience finishes with a trip to the checkout – a process that runs smoothly thanks to the two new cash desks from Wanzl. There is plenty of space on the conveyor belt for customers to lay out their items before paying. This spacious theme continues with lots of room after the till – giving customers time to pack their shopping in peace.
New in the Wanzl range
NEW The cash desks are a new addition to the Wanzl range: stylish and functional with plenty of space for customers to lay out their items before reaching the till and to pack them afterwards.
Environmentally friendly shopping bags are well-organised and accessible on the large shelves.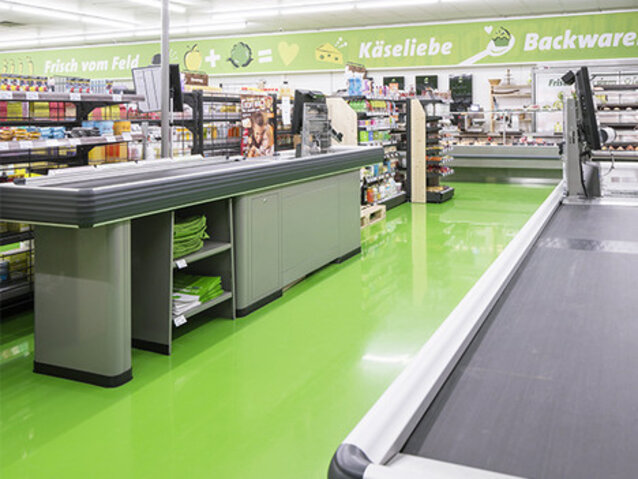 BIOMAMMUT wanted a solution from a single source for its store in Sulz.
The pure tech and Vitable shopfitting systems are supplied by Wanzl, as are the Bake Off 2.0 baked goods display unit, the shopping trolleys and the shopping baskets.