bi1 (F)
The Schiever Group, which has been part of the landscape in Burgundy for decades, is relaunching itself with its bi1 supermarkets.
In summer 2013, Schiever opened the first 2,000 m2 bi1 trial supermarket in a former Atac store in the French town of Veigy-Foncenex, near Geneva.
For the Schiever Group, which is part of Auchan, this is new territory, far from the retailer's home in Burgundy. bi1 is pronounced "bien" (good), and its new slogan is "Bien sûr!" (of course!). The bi1 concept is based on fresh, high-quality products from local suppliers. The locally sourced meat is subject to the strictest of criteria when it comes to origin, quality and finishing. High-quality delicatessen products, crispy bread, juices and mineral water complete the offer At bi1 the customer feels at home, information is provided by the staff who take time to provide a feel-good service.
bi1 went down well with the customers in Veigy-Foncenex.
This prompted Schiever to open five supermarkets in Burgundy and an additional store in the neighbouring county of Doubs. In April 2014, the third store was opened in Luzy. Local Morvan ham and other specialities can be found here. Such as the beef: it comes only from animals born, bred and slaughtered in the region. This is bi1 – firmly entrenched in the region. As well as food, the store sells stationery, newspapers, books and clothing, and has an electronics department. The four new self-service checkouts are a first for Luzy. Customers use them to pay for their purchases with their loyalty card, assisted by bi1 staff. There are now seven bi1 stores and the Schiever Group is already planning further new openings.
Roll-out for bi1
Wanzl supplied around 1,000 Tango plastic shopping trolleys in anthracite/aniseed, bi1's corporate colours, to the new bi1 supermarkets:
Doing the family shop: the Tango with a 220-litre basket and a folding crate holder for drinks plus the Tango model with baby seat.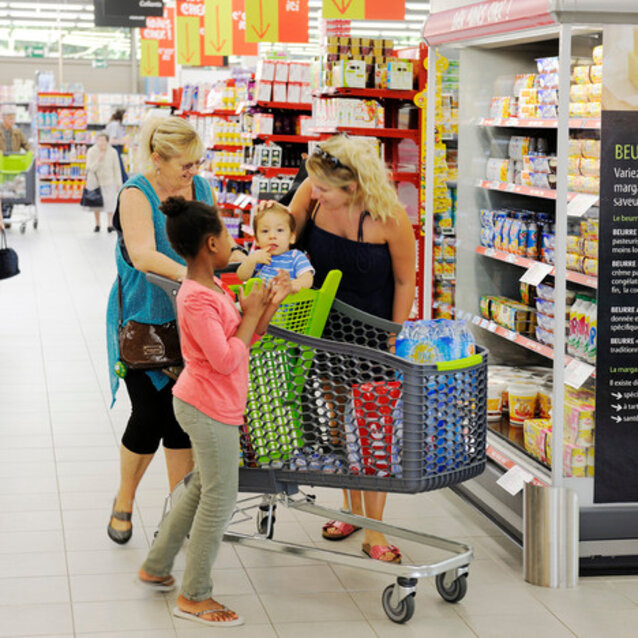 Also provided by Wanzl:
Quick and easy shopping: the Pick-up shopping trolley fitted with the stackable, fine-mesh GT26 Eco shopping basket made of 100 % recycled material
Service: Shopping trolley for wheelchair users
Order picking trolleys: T21 transport trolleys