Wanzl and CEIA
Perfect synergies for greater security
Security, workload reduction and process optimisation are essential components for smooth day-to-day operations in companies today. Wanzl Access Solutions and CEIA GmbH are two of the top providers of fully automated security solutions. The two experts have come together to offer the perfect combination of products: Galaxy Gates from Wanzl featuring SMD601 Plus Profiling metal detectors from CEIA.

In order to protect against access by unauthorised persons, carrying of unauthorised items and theft of material or goods, security is often a top priority at entrance and exit points on company premises. However, employees and visitors should always be made to feel welcome and not like they are being scrutinised. To ensure this is the case, Wanzl developed the comprehensive Galaxy Gates concept, which is based on a simple formula: design plus convenience plus functionality, with the highest degree of security. Issued via an external approval unit, such as a barcode reader, RFID card reader or a biometric palm vein scanner, the clearance signal is very smooth and the Galaxy Gate opens its toughened safety glass swivel arms immediately. Ceiling sensors scan person and behaviour patterns as well as monitor faultless operation. The SMD601 Plus Profiling walk-through metal detectors from CEIA are then used to identify objects. The devices can be easily linked to the Wanzl Galaxy Gates and scan and localise even the smallest concentration of metal on the body of the person entering the building or the security area through the access gates. If, as the person exits, there is a difference in the previously recorded metal quantities, this is detected and localised with high precision and an alarm is triggered. In addition, an LED height display indicates the body height at which the deviation is located. The Galaxy Gate immediately closes the passage automatically to allow security personnel to perform a check. In order to avoid unnecessary alarms caused by metal that the individual wears on a regular basis, a digital metal signature of the person is created in advance. For example, prostheses that contain metal or personal jewellery are recorded and stored in the individual's authentication profile. All processes are carried out without cameras, only by detecting the metal worn on the body.
The Galaxy Gate from Wanzl
Security is paramount wherever a large number of people come together. The Galaxy Gate access gate from Wanzl offers the perfect solution for this, as it can be used to organise and control the flow of people in sensitive entrance zones. The Galaxy Gate relieves the burden on security personnel at company and factory buildings where the same people come and go on a regular basis. Employees are authenticated at the Galaxy Gate and then granted access. This is done by means of external approval units such as RFID card readers, barcode scanners or biometric palm vein scanners, which are connected via LAN interfaces or a potential-free contact. If everything is in order, the software-monitored electromotor safety-glass swivel arms open straightaway. In the event of misuse, the turnstile system issues visual and acoustic warning signals and immediately closes the swivel arms. Additional security is provided by the Wanzl Access Manager, which visualises the entire entrance area in real time, logs events and also makes available statistics on alarms, visitor numbers and passages. The Galaxy Gate can be configured on a customer-specific basis and it is also possible to integrate other systems, such as the SMD601 Plus Profiling metal detector.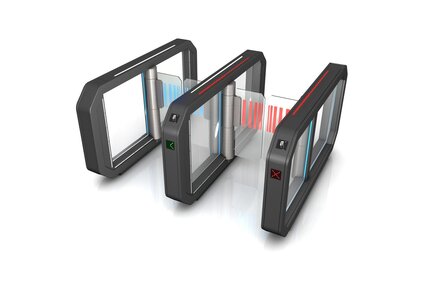 SMD601 Plus Loss Prevention from CEIA
The SMD601 Plus Loss Prevention walk-through metal detector from CEIA GmbH features the very latest digital detector technology. It works in a similar way to security detectors found in airports or public buildings, but is specifically designed to detect components that contain metal, such as electronic parts, high-precision mechanics, jewellery and precious metals. It enables employees to be checked quickly and is proven technology for preventing theft of items that contain metal. The system can detect the smallest metal objects in or on the body, while respecting privacy. This prevents theft or accidental removal of metal objects from warehouses and production facilities. The innovative profiling option allows employees to carry personal metallic objects on their body or implants in their body without triggering a detection alarm.

A combination of Galaxy Gates and metal detector offers considerable advantages for customers as connecting these two devices guarantees fully automatic turnstile operation and automated blocking of the entrance and exit when an alarm is triggered.