Smart Exit from Wanzl
Even more convenience and security at the self-checkout
Self-checkout areas have become an indispensable part of modern stores. They greatly facilitate and speed up payment processes for customers and stores. However, most of them are not yet fully automated – because to avoid theft or accidental non-scanning of goods, operators rely on random receipt checks by staff and scanning at the exit. With the new Smart Exit from Wanzl, self-checkout areas are now even more secure and convenient.
The usual process for customers and store operators stays the same. All goods are scanned and paid for independently by customers at the self-checkout terminals in the self-checkout zone as usual – in cash, with a debit/credit card or via a smartphone app, depending on preference and the configuration of the SCO terminals. Customers then leave the store via Wanzl's exit gates. So far, so good – and that's all there is to it. No further steps are necessary, neither checks by staff nor additional scanning of the receipt at the exit. Wanzl's Smart Exit guarantees secure and convenient shopping thanks to artificial intelligence (AI) and state-of-the-art sensor technology. Wanzl AI sensors record, verify and control all the processes in the self-checkout zone, from entry and scanning through to opening of the exit gates. The Smart Exit's software communicates with all the hardware components such as ceiling cameras and Wanzl gateways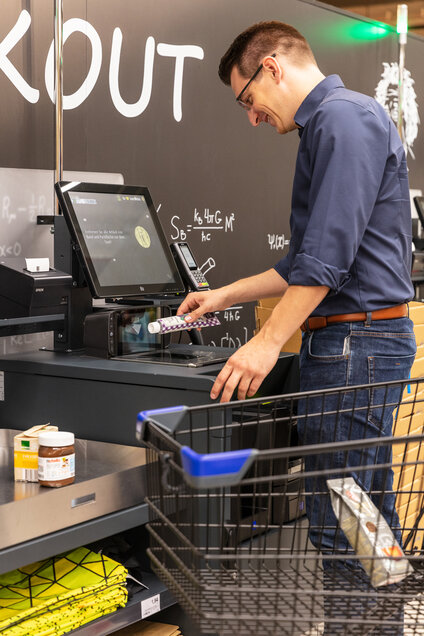 Equipment options and simplest installation
Market operators can choose between three software packages: Basic, Remote and Connect. The Basic package is included as standard with every Smart Exit installation and includes the web interface with live overview, zone visualisation, the current SCO assignment, customer releases and control of the exit gates. The Remote package also includes remote maintenance and free updates. With the Connect premium package, Wanzl customers also benefit from the SCO Analytics module for analysing customer frequency and shopping time, the display of the respective device status in real time and the practical dashboard. With the simple and intuitive operation of the dashboard, store staff always have a perfect overview of the processes in the self-checkout zone.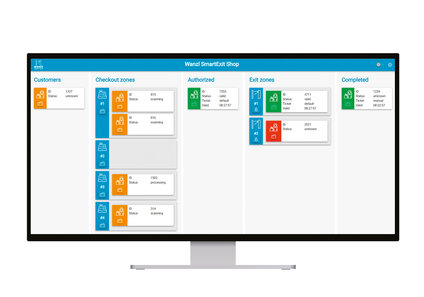 Camera sets with two or four devices allow self-checkout areas of between 25 sqm and 48 sqm to be recorded. The system is extremely easy to install as no connection to the checkout system is required. The various hardware components communicate via LAN connections, which also ensure power supply thanks to Power of Ethernet (PoE). Only the Wanzl exit gates still require a direct connection to the power supply. All Wanzl exit gate model ranges are compatible with Smart Exit.