Salsa Eco from Wanzl – environmental protection in a beautiful design
Wanzl launches environmentally friendly shopping trolleys and baskets
Plastic waste is one of the biggest global problems of our time. Some 10 million tonnes of plastic waste now pollute our environment every year. With the new Wanzl eco product line, retail expert Wanzl supports more environmental protection and sustainability when shopping. In doing so, the company follows the compelling basic principle of recycling: reprocess and reuse instead of waste.
Environmental protection with the Salsa Eco shopping trolley: intelligent value chain for sustainable raw materials
How does Wanzl contribute to ensuring that plastic waste does not pollute the environment but is used meaningfully and sustainably? By integrating the Salsa Eco shopping trolley product line into a self-contained recycling process. It begins with the clean separation of waste via the yellow bag or the yellow bin. Yoghurt pots, PET bottles and all kinds of plastic packaging: the collected recyclables are sorted according to material type in a sorting plant. This is followed by cleaning, reprocessing and laboratory analysis of the suitable materials before they are further processed into high-quality polyester fibres or plastic granulate. This creates new, quality raw materials for the production of the Wanzl Eco product line. "Plastic recycling and recovery using the yellow bag saves around 1.26 tonnes of CO2 per tonne of plastic compared to burning the materials in a waste incineration plant. In addition, recycling protects natural resources and slows down the pollution of our environment with even more plastic waste. Press release by Wanzl GmbH & Co. KGaA, Salsa Eco from Wanzl – environmental protection in a beautiful design I Page 2 This is why we ask: please separate your waste using the yellow bag – we can make use of it," explains Martin Dehm, Product Manager for Shopping Trolleys with a smile.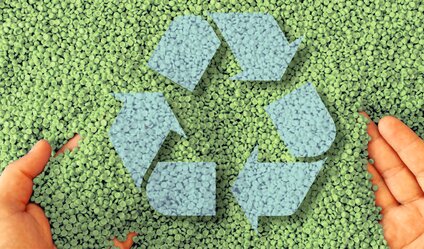 Sustainable shopping pleasure with the Salsa Eco: strong design and top workmanship
The Salsa Eco shopping trolley stands for a carefree shopping experience in all respects – for customers and retailers. "Holistic resource-preserving shopping is becoming ever more important. Retailers should take this into consideration when designing and fitting out their stores. Of course, quality standards must be maintained in doing so," says Martin Dehm. The products in the Salsa Eco range meet these requirements perfectly. They combine a sustainable environmental strategy with renowned Wanzl quality. The Salsa model series' innovative design concept won the German Design Award. The finely meshed basket structures are repeated, forming a network as if naturally grown thus producing a unique dynamic and passion. Without a doubt: the Salsa shopping trolley infuses the shopping experience with energy. This is also ensured by high-quality workmanship for great manoeuvrability and extra-quiet castors with rubber treads. If a retailer wants to bring freshness and a natural feel into the aisles of their store, they would do well to choose a green design. Or perhaps black for simple, timeless elegance? Either way, the areas at the front and the side elements always provide adequate space for logos, messages or the eco seal from Wanzl as a clear indication of sustainable shopping. Anyone can send that signal – be it in convenience stores, supermarkets or hypermarkets. After all, Salsa Eco products are available in a variety of sizes. Shopping trolleys are available in capacities of 95 litres, 150 litres or 200 litres. Shopping baskets are available in capacities of either 26 litres or 40 litres.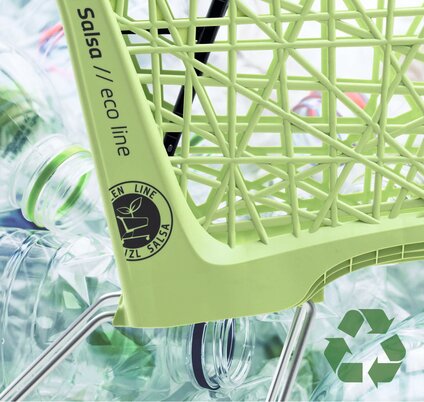 Meeting customers' needs with the Salsa Eco: practical accessories
Shopping with children, protecting fragile items, dealing with large purchases – thanks to the extensive range of accessories, every trip to the supermarket is a success. The comfortable and, above all, safe child seats turn little shoppers into passengers, making the shopping trip a pleasure. When the little ones are at home, the folded-out seat offers optimum protection for delicate items. In addition, goods dividers at the top end of the trolley allow customers to separate their items and structure their shopping. Drinks crates or bulky packaging can be conveniently housed in the crate holder on the chassis. On the subject of comfort, the Promobox Plus S-Grip handle unit can be enhanced with practical accessories such as cup and scanner holders. Details such as these are important when it comes to making sustainable shopping an experience!