Making a break at the airport something special
Wanzl, the access expert, and ICT.aero benefit from synergies
Wanzl Access Solutions and its strategic partner ICT.aero, experts in airport technology solutions, have a common goal: to optimise lounge management at the exclusive Pearl Lounge operated by NAS (National Aviation Services). This is where airport guests can enjoy services such as comfortable seating, private meeting rooms, a business centre and Wi-Fi. Wanzl and ICT.aero provide quick and smooth access that avoids delays at a reception area or standing in a queue. Ralf Aubele, Vice President Sales Airport & Access Solutions at Wanzl, is satisfied with the result: "Thanks to the interaction between our fully automated Galaxy Gate access gate and the latest ICT technology, we are able to not only optimise processes, but also to improve the passenger experience." The Pearl Lounge is available free of charge to all first and business class passengers, frequent flyers and holders of certain credit cards. Other travellers also have access to the lounge for an additional charge. Various other lounge services, such as children's playgrounds, relaxation rooms and catering options, ensure that the waiting time until check-in will simply fly by. ICT.aero's LMS (lounge management system) is used in more than 50 lounges in Africa, Europe, the Middle East and South Asia. Airports in Cairo, Marrakech, Rabat, Casablanca, Abu Dhabi, Kigali, Abuja, Lusaka, Kannur and, most recently, Napoli Capodichino, among others, benefit from this service.
In recent years, no other industry has enjoyed as much popularity as the information and communication technology (ICT) industry. The ICT industry has dramatically changed the way people work, communicate, learn and live. Computers and robots are performing more and more services faster and more efficiently. As a result, these technologies are becoming vastly important for the economic development and growth of companies.
Rami Al-Haddad, General Manager at ICT.aero, emphasises that "At ICT.aero, we source and develop scalable and cost-effective technology solutions to support airport operations and maximise financial returns. Cutting-edge information and communication technology can reduce costs and increase productivity through accurate and automated data." Airport and lounge operators are naturally delighted about these cost savings and process optimisations. But passengers are also enjoying the benefits, thanks to the technology company's collaboration with Wanzl.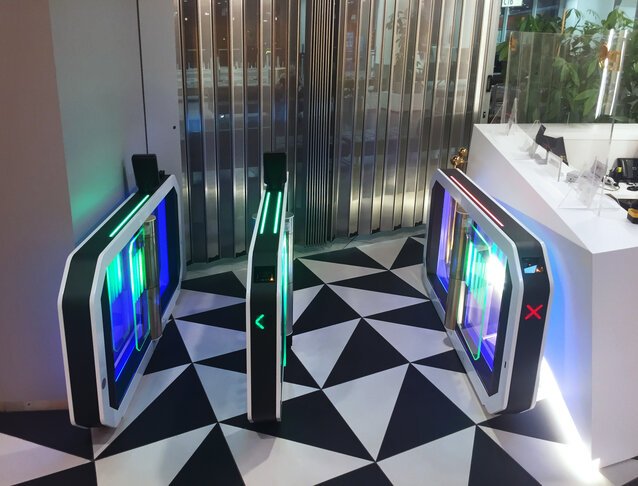 "During peak hours, up to 100,000 people a month enter and leave the Pearl Lounge. Especially nowadays, when health and safety are a top priority, it is essential that access is fast and uncomplicated. Passengers don't want to spend more than a few seconds checking into the lounge if they only have an hour to spare," explains Al-Haddad. Thanks to ICT.aero's LMS and Wanzl's Galaxy Gates, passengers, frequent flyers and even airport staff can enjoy a very special lounge experience.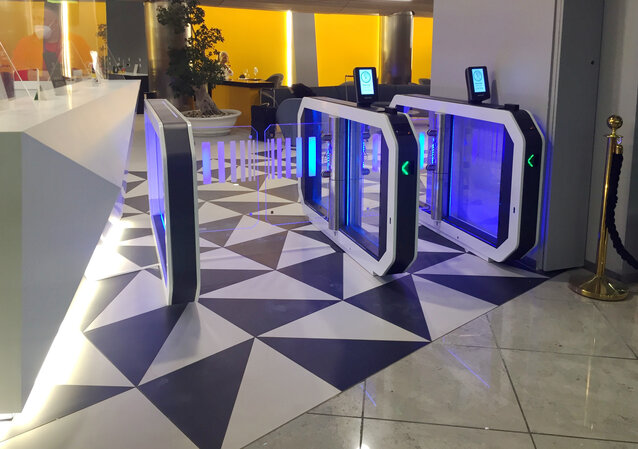 Synergies were used for the practical implementation. The LMS uses software that checks passengers' authorisation to access the lounge. Wanzl's Galaxy Gate is used as the hardware. To be able to start the process, both Wanzl's dashboard management and the LMS must be hosted in the Microsoft Azure cloud and synchronised with the Wanzl Galaxy Gate. "With this synchronisation, the entire business logic for the lounge, including permissions and cabin class, is configured in the lounge management system. Passengers then only have to check their access authorisation at the Galaxy Gate and can enter the lounge with approved authentication – all in less than two seconds," says Ralf Aubele). For this purpose, the corresponding approval unit of the Galaxy Gate effectively and automatically collects all the required data either via the barcode on the boarding pass or – if the passenger is a frequent flyer or has a bank card – via the swipe reader for magnetic cards.
"Based on the data stored in the lounge management system, the Galaxy Gate opens or remains closed. In the case of walk-in passengers, the employee selects the 'walk-in' button on the dashboard after scanning the boarding pass and enters the number of passengers, after which the system automatically calculates the respective fees," adds Rami Al-Haddad. Lounge guests can check in and out several times depending on the lounge's policy. The authentication medium does not need to be scanned again during check-out. Here, the gate is opened automatically to ensure smooth passage.
One of the strengths of the lounge management system is automated data collection. All passenger information is automatically stored. As a result, the integrated CRM creates a profile of frequent travellers, including information on their preferences. In addition, the management system offers automatic integration into an invoicing system to enable airlines, acting as customers of the Pearl Lounge, to achieve the greatest possible cost transparency. "Together with Wanzl, we have succeeded in optimising the lounge access process. This gives check-in staff more time to look after the lounge guests and attend to their well-being," Rami Al-Haddad says, indicating another benefit. "Through this strategic partnership and innovative technologies, it is possible to ensure that personnel are used more efficiently, that check-in processes become faster and, in turn, customer satisfaction increases and the customer experience improves," says Ralf Aubele, describing the collaboration.