Welcome to FitX
Wanzl Access Solutions ensures a smooth training start
"FOR ALL OF US" – it is evident already from FitX's claim that everyone is welcome here – from beginner through to professional irrespective of age and performance level. This makes the FitX studios a popular destination for all those who want to keep fit. All 84 FitX studios in Germany guarantee an optimal start to training. Thanks to the automatic entry systems from Wanzl Access Solutions, access to the studios is quick, easy and, above all, possible 24 hours a day.
FitX's philosophy: to create fitness facilities for a wide variety of people and to meet their individual needs. "Our FitX studios consist of seven training areas: class facilities, training area, cardio, circuit, ladies-only gym, gymnastics corner and a separate free weight area. In this way, almost everyone is offered the training opportunity that suits them best – 24 hours a day, which is a great advantage in today's often busy everyday life. We therefore decided to install an automatic access system in order to provide our members with uncomplicated access to all FitX studios throughout Germany," explains Sami Youssef, Head of Construction.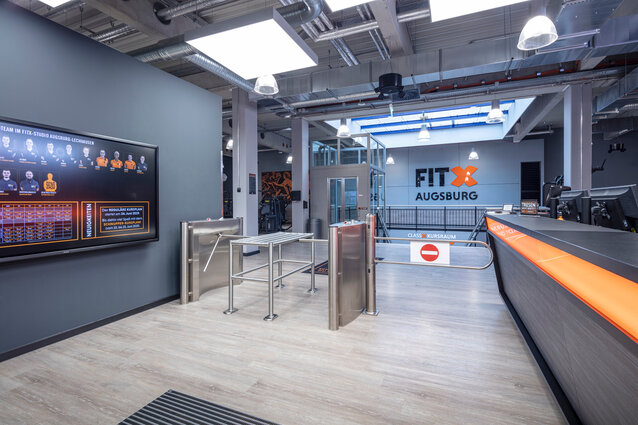 The experts at Wanzl Access Solutions were responsible for its smooth implementation. The main entrance areas of the FitX studios feature the Sirio turnstile, the special Technoport access point and stainless steel customer guides for easy orientation. The operation of the turnstiles is also simple. Members hold their membership card up to the RFID scanner, which completes the check-in process in a flash and access is granted. Sami Youssef confirms: "The admission process is simple and easy for our members to understand. New customers in particular quickly find their way. Incidentally, it makes no difference where you have registered. Registered members have access to any FitX studio at any time and anywhere. That is why it is so important for us that the turnstiles guarantee permanent and trouble-free use despite our very high throughput rates."
Another advantage of automatic access: data analysis. How often and at what time do members use the FitX studio? This is a fundamental question for the best possible studio management. This is one of the reasons why the Sirio turnstile is also used at the entrances to the auditoriums. "On the one hand, this allows us to track how many people attend. On the other hand, it allows us to monitor the popularity of courses and to optimise our offerings accordingly in terms of time and quantity," explains Sami Youssef. And members enjoy even more benefits. "For those who want to know when, how often, how long and at what times he or she has trained, we can provide a list of personal check-ins. Many people use this information to review and improve their training schedule," says Sami Youssef.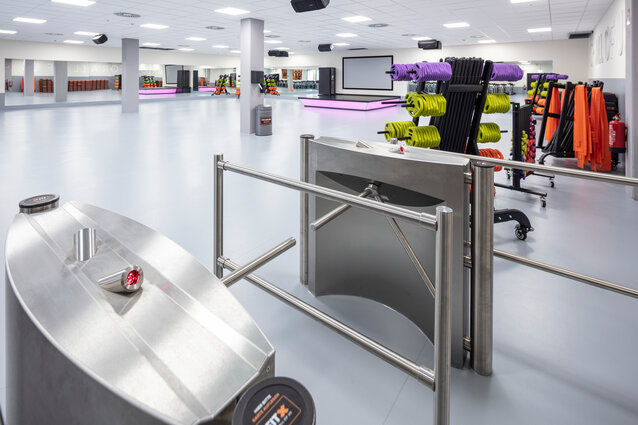 The collected data is transmitted directly from the turnstiles to the management system of the respective FitX studio. This is done by IPWatch. The specialist for data processing solutions looks after the FitX network and is also responsible for the selection and implementation of the relevant hardware. Sami Youssef says: "IPWatch recommended Wanzl Access Solutions as a product partner for the access systems. The decision was then made by our management. In addition to long-lasting functionality and easy handling, we were looking for an unobtrusive design that would blend in perfectly with our reception areas. We are 100% satisfied with our choice" High-quality, polished stainless steel and the form-fit housing as if from a single casting are the hallmarks of the Sirio turnstile design. Perfect for the stylishly understated look of the FitX foyers with their anthracite-coloured walls and earth-coloured floors. Only a few elements in bright FitX orange provide visual contrasts. In such an atmosphere, even access to the training is fun.