Beauty comes from within – collaboration with Wanzl and flaconi
The online beauty retailer relies on the KT3 order picking trolley for its warehouse.
A luxurious serum, glittering eyeshadow or fragrant perfume – beauty product e-commerce is booming like never before. Added to your shopping basket from the comfort of your sofa, your chosen product will usually be on your bathroom shelf by the very next day. The first stop for online beauty shopping is flaconi. A leader in its industry, the online pure player has its hands full since, in addition to quality, customers also expect their orders to be fulfilled quickly. The goods whizz through the aisles of the 10,000 m2 warehouse in Berlin, reliably transported in the Wanzl KT3 order picking trolley.
"We put our all into offering our customers a complete beauty experience with a high level of service quality," says Steffen Christ, member of the flaconi management team and COO of Logistics. "In addition to our broad product portfolio, we set the highest standards with an optimal supply chain, simple order processing and fast dispatch. In our warehouse we work according to the 'person to goods' principle, and therefore have high demands of our order picking trolleys in particular when it comes to day-to-day operations. That's why we opted for Wanzl's KT3 model." flaconi has a total of 100 trolleys, provided by the industry expert, in use every day for both storage and picking. The goods are stored securely on shelves that are metres high with lots of organised activity going on around – not a problem for the easily manoeuvrable trolleys from Wanzl. Two order picking trolleys need to fit next to each other in the narrow aisles when goods are being deposited or picked. In addition to high weight-bearing capacity, flexibility is also essential. Trips around the warehouse are long because the 720 brands and 45,000 products occupy a lot of space. "A total of 150 employees work here and the trolleys are with them all the time," Steffen Christ reports. "We're impressed with the KT3 in use not only because of its load capacity of up to 300 kg, but mainly because it's so manoeuvrable thanks to the additional fifth wheel and lightweight design. The separately mounted ladder also means our employees can reach the higher shelves."
The product range stocked by flaconi in Berlin is both extensive and varied – from natural cosmetics and luxury products to the traditional Nivea cream. Tubes, glass bottles and all kinds of fragile jars find their way into the trolley's baskets and compartments. And the trolley needs to be equipped for these various products. Its system design has allowed the KT3 to be adapted to the special wishes of the beauty pioneer. "To transport our goods efficiently, Wanzl came up with a custom configuration of the KT3 just for us. Along with the fifth wheel and ladder, all the trolleys have an additional pair of handles so they can be pushed comfortably along the aisles. We've also fitted the model for storing goods with a lattice back panel and four hook-in shelves, whereas we selected six hook-in shelves for the model used for picking," Steffen Christ explains.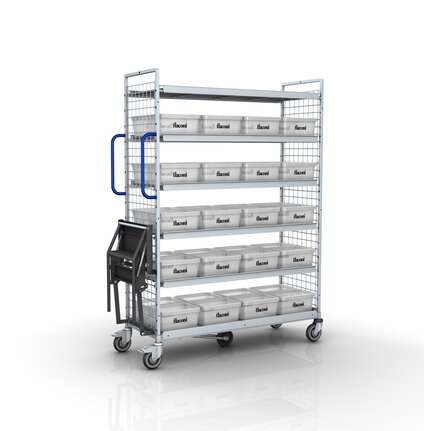 We first needed to work closely with flaconi in order to then develop a solution that was optimally tailored to its needs. As a holistic solutions provider, Wanzl attaches particular importance to support and providing an all-round service – a requirement that the industry expert also shares with flaconi. Satisfied with the service, Steffen Christ summarises the collaboration: "It soon became clear which features we need the KT3 to have to meet our many demands. We greatly appreciate this solution-orientated way of working and the excellent communication. It made working with Wanzl a very pleasant experience."