Mobile workstation and wearable scanner MARK2
A dynamic duo
The parcel service sector in Germany is experiencing a boom like never before: forecasts predict that almost four billion parcels will change hands in Germany in 2020 – a mammoth task, especially for the logistics sector. From goods receipt and dispatch to picking and inventory, a smooth process flow is absolutely essential, although the complete automation of manual work steps is often not possible. Wanzl Logistics + Industry has a smart solution for this: the dynamic duo consisting of mobile workstation and the more advanced wearable scanner MARK2.
The concept of the mobile table trolley was born out of an everyday challenge in distribution centres: time is money, whether for incoming goods inspections, warehouse accounting, labelling or inventory. Manual processing often involves long walks back to the office. With four castors and a height-adjustable tabletop, Wanzl's trolley becomes a mobile desk that's always precisely where its needed, This eliminates unnecessary trips and saves time. Whether laptops, scanners or label printers, the on-the-move office has enough space for the required technology, as well as the optional extra of a mobile power supply provided by means of Wanzl's portable lithium-ion battery. It can be attached to the side or the middle shelf by means of an adapter plate. A voltage converter with integrated socket can be connected to the battery. If the battery is mounted on the side, the fixed middle shelf below the tabletop serves as a storage area for accessories and office supplies. As an option, an additional shelf can be added to the table trolley. Essential cables are stored unobtrusively in a conduit at the rear of the tabletop – to keep things neat and tidy in the workstation. This trolley is not only mobile, but also flexible. Thanks to its height-adjustable table top, it can be adapted to individual requirements such as body size. It can be adjusted in 25 mm increments using a metal bracket, making it ergonomic and suitable for a wide range of users. A recess in the front of the trolley provides additional legroom when the trolley is pushed. Two brakes ensure solid positioning. If an additional work surface is required, the tabletop can be upgraded at a later date.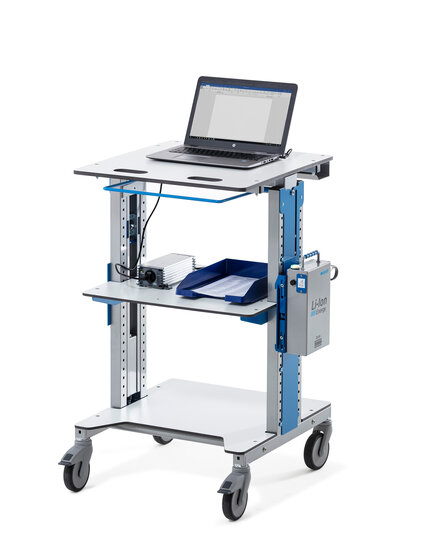 Combined with the mobile table trolley, the MARK2 dynamises manual work steps and allows the worker's capacity to connect with industry 4.0. As a further development of the MARK One S, it weighs only 40 g and is currently the smallest and lightest wearable with integrated barcode scanner on the market. The smart optimisation of the conventional pistol or ring scanner enables hands-free scanning, saving up to four seconds per scan and minimising errors through improved optical, haptic and acoustic feedback functions. An LED signal on the back of the scanner provides the user with clearly visible feedback on the current process step, while any process instructions are automatically fed back to the end device in order to detect any errors early on and avoid them in advance. The feedback of different signal tones and vibrations also contributes to process optimisation and error analysis.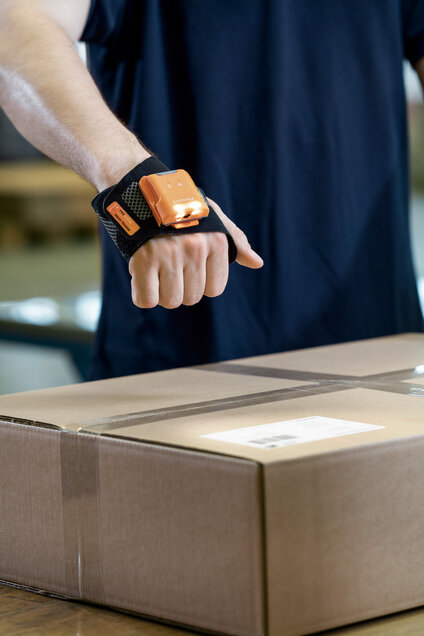 In addition to hands-free operation, a powerful scanning engine delivers accelerated 1D/2D barcode capture over long distances. For this reason, the MARK2 enables a worker to work significantly faster than with conventional hand-held scanners. With a battery life of 15 hours, up to 6,000 scans can be performed. Depending on the model and barcode size, a scanning distance of between 10 and 150 cm is possible. Similarly, depending on the product model, the scan is triggered either in the palm of the hand (palm trigger) or between the thumb and index finger (index trigger). Both variants impress with their flexible fit, as they are not only available in different sizes, but can also be adapted individually by means of a Velcro fastener. Wireless and therefore mobile, the MARK 2 is no longer just an access point via USB or R232 connection on the PC, but is now also an alternative innovation with a connection via Bluetooth Low Energy (BLE). The radius of action over the access point is up to 30 m. If an employee carries a Bluetooth-capable terminal device with him, he can use the wearable scanner to move around the warehouse or distribution centre without restriction. In each case and especially in combination, the two smart helpers optimise logistical processes in detail. Unhampered by workstation attachment and flexible in their use, they save time and provide better ergonomics for manual work steps. Even small changes will have a big impact and both employees and customers will benefit from the mobile workstation and the smart MARK2 wearable scanner as part of Wanzl's comprehensive service portfolio.